Preview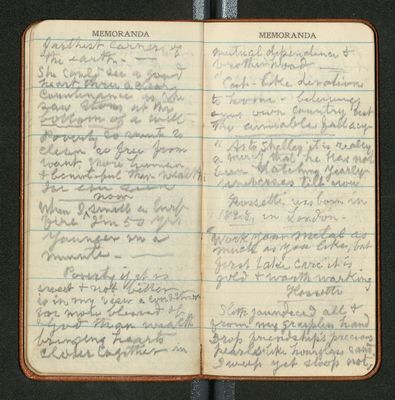 Transcription
farthest corners of the earth.
She could see a good heart through a clear countenance as she saw storms at the bottom of a well.
Poverty so sweet so clean so free from want, more human & beautiful than wealth I've ever seen now.
When I smell a turf fire I'm 50 years younger in a minute.
Poverty if it is sweet & not bitter is in my view a condition far more blessed of God than wealth bringing heart closer together in
mutual dependence & brotherhood
"Cat-like devotion to home & believing our own country best the amiable fallacy.
"As to Shelly it is really a mercy that he has not been hatching yearly universe till now.
Rosetti was born in 1898 in London
"Work your metal as much as you like, but first take care it is gold & worth working"
Rosetti
Sloth jaundiced all! & from my graspless hand drop friendships precious pearls like hourglass sand. I weep yet sleep not
Resource Identifier
MuirReel33 Notebook09 Img028.Jpeg
Contributing Institution
Holt-Atherton Special Collections, University of the Pacific Library