Preview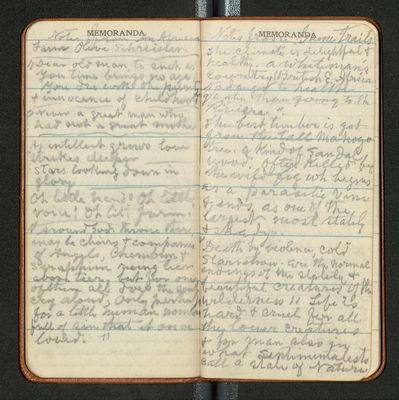 Transcription
Notes from An African Farm Olive Schreiner
"Dear old man to such as you time brings no age. You die with the purity & innocence of childhood"
Never a great man who had not a great mother"
As intellect grows love strikes deeper
Stars looking down in glory
Oh little hand! Oh little voice! Oh little farm!
Around God's throne there may be choirs & companies of Angels, cherubim & seraphim rising tier above tier but for one of them all does the soul cry aloud, only perhaps for a little human woman full of sin that it once loved"
Notes from Game Trails [Roosevelt]
The climate is delightful & healthy. A white man's country (British E [east] Africa) No danger to health greater than going to the Riviera"
The best timber is got from the tall Mahogo tree, a kind of sandalwood. Often killed by the wild fig which begins as a parasite vine & ends as one of the largest most stately & shady.
Death by violence, cold starvation are the normal endings of the stately & beautiful creatures of the wilderness" Life is hard & cruel for all the lower creatures & for man also in what sentimentalists call a state of Nature.
Resource Identifier
MuirReel33 Notebook09 Img021.Jpeg
Contributing Institution
Holt-Atherton Special Collections, University of the Pacific Library