Preview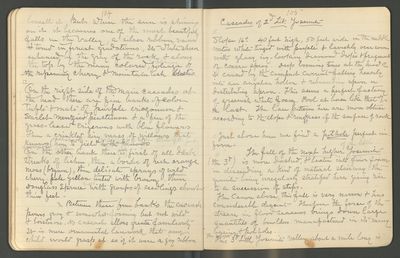 Transcription
104
beneath it. But when the sun is shining on it it becomes one of the most beautiful falls in the valley, a silver ribbon veined & toned in finest gradations. Its white sheen enhanced by the gray of the rock & along the top by the many colored ripening foliage of [the ripening] cherry & mountain ash [bushes?]
On the right side of the main cascades at the head there are fine banks of color tufts & mats of purple eriogonum & scarlet [menzies] penstemon & a few of the grass-leaved Erigerons with blue flowers
Then a crinkled airy mass of willows that knows how to yield [to the floods] gracefully to the stress of the part-[swaying/sweeping] cataract­­
On the [other] left bank there [is] are first of all dark streaks of lichen, then a border of rich orange moss (bryum), then delicate sprays of wild cherry, pale yellow tinted with brown, then Douglas Spruce trees with groups of seedlings about their feet.
Between these fine banks the cascade pours gray & somewhat foaming but not wild & boisterous. No cascade allows greater familiarity
It is mere ornamental lacework that any child would grasp at as if it were a gay ribbon
105
Cascades of 2d [second] Lit. [Little] Yosemite
Slope 16°. [degrees] 40 feet high, 50 feet wide in the middle
waters white tinged with purple & lavishly oversown with glasy [glassy] icy-looking diamond drops & fragments of coarse spray. Deep booming tones at the head of it caused by the compact current falling heavily into an angular hollow & rebounding upon a distributing apron. This seems a perfect factory of greenish white foam. Pool at base like that of the last. The lace patterns here are more obtuse according to the slope & roughness of the surface of rock
Just above here we find a pothole perfect in form
The fall of the next higher of the Little Yosemite (the 3d [third]) is more dashed, & is beaten into finer foam in descending a kind of natural stairway, the granite being irregularly stratified here giving rise to a succession of steps.
The Canon above this fall is very narrow & has considerable descent Therefore the force of the stream in flood seasons brings down large quantities of boulders manufactured in its many basins & pot holes.
The floor of This 3d [third] Little Yosemite valley about a mile long is­
Resource Identifier
MuirReel32 Notebook01 Img055.Jpeg
Contributing Institution
Holt-Atherton Special Collections, University of the Pacific Library