Preview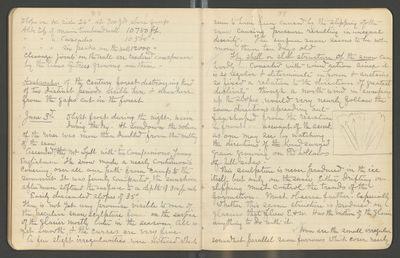 Transcription
88
Slope on W. [west] side 26 [degrees] at 700 yds [yards] above camp.
Alt. [altitude] top of main timbered wall 10750 ft. [feet]
" " " cascades 10500 "
" " " six peaks on the wall 12000 "
Cleavage joints on the wall are rendered conspicuous by the lines of trees growing on them.
Avalanches of the Century forest destroying kind of two distinct periods visible here & elsewhere from the gaps cut in the forest
June 3d Slight frost during the night, warm during the day. At sundown the volume of the river was more than doubled from the melting of the snow
Ascended [the] Mt [Mount] Lyell with two companions, young Englishmen The snow made a nearly continuous covering over all our path from camp to the summit It was firmly compacted, the sunshine afternoon softened the surface to a depth of 2 or 4 inches
Easily descended slopes of 35° [degrees]
There is not yet any promise visible to me of the peculiar snow sculpture found on the surface of the glacier mostly later in the season. All is yet smooth & the curves are very fine.
A few slight irregularities were noticed which
89
seem to have been caused by the slipping of the snow causing pressure resulting in unequal density. The surface snow seems to be not more than ten days old
The shell or slab structure of the snow can hardly be conected [connected] with wind action since it is so regular & determinate in form & sustains so fixed a relation to the direction of greatest declivity though a north wind in sweeping up the slopes would very nearly follow the same directions spreading out fan shaped from the resistance in front on account of the ascent, as one may see by watching the directions of [the] wind swayed grain growing on the hollows on hill sides.
[sketch of fan-shaped spreading-out resulting from wind action]
This sculpture is never produced in the ice itself but only on the snow Either drifting or slipping must control the trends of the formation. Must observe further. Especially whether this same structure is produced on glaciers that flow E. [east] and W. [west] Has the motion of the glacier anything to do with it.
(Omit) How are the small irregular somewhat parallel snow furrows which cover nearly
Resource Identifier
MuirReel32 Notebook01 Img047.Jpeg
Contributing Institution
Holt-Atherton Special Collections, University of the Pacific Library