Preview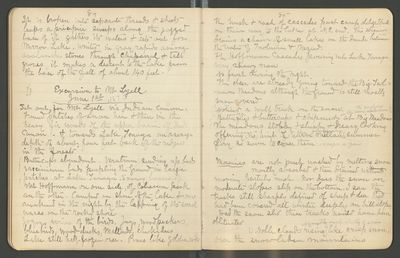 Transcription
84
It is broken into separate threads & sheets leaps a precipice sweeps along the jagged base of it gathers its waters & sets out for Mirror Lake, united in gray rapids among avalanche stones through chaparral & tall groves, it makes a descent to the lake from the base of the fall of about 140 feet.
Excursion to Mt [Mount] Lyell
June 1st, 1873
Set out for Mt [Mount] Lyell via Indian Canon. Found patches of snow here & there in the heavy fir woods of the upper basin of Ind. [Indian] Canon. & towards Lake Tenaya an average depth of about four feet back of the ridges in the forests
Buttercups abundant. Veratrum sending up buds vaccinium buds purpling the ground in large patches at Lake Tenaya, snowy bosses of Mt [Mount] Hoffmann on one side, of Coliseum peak on the other. Camped on shore of the lake & was awakened in the night by the lapping of its small waves on the rocky shore.
Joyous voice of the birds. Jays, woodpeckers, bluebirds, wood ducks, mallards, chickadees
Lake still half frozen over. Pine like goldenrods
85
The hush & rush of cascades past camp delightful on their way to the lake at N.E. [north east] end. This stream drains a chain of small lakes on the divide between the [vales/waters] of Tuolumne & Merced.
The Hoffmann Cascades pouring into Lake Tenaya very showy now
No frost during the night.
The deer are already going toward the Big Tuolumne Meadows although the ground is still mostly snow covered
Noticed a wolf track in the snow.
The meadows sloppy & slushy & dreary looking offering [no] scarce a hint of [warm mellow] the flowery summer glory so soon to cover them except a few Butterflies & buttercups & chipmucks [chipmunks] on the [warm] spots around the sides at Big Meadows
Moraines are not much washed by melting snow
mostly absorbed & then drained without moving particles much. Nor does the snow on moderate slopes slip on the bottom. I saw the tracks still sharply defined of sheep & deer that had been covered all winter deeply on hill slope. Had the snow slid these tracks would have been obliterated
Noble clouds apparently made wholly of snow rising [like crisp snow.] over the snow-laden mountains
Resource Identifier
MuirReel32 Notebook01 Img045.Jpeg
Contributing Institution
Holt-Atherton Special Collections, University of the Pacific Library