Preview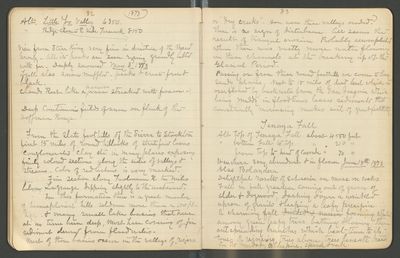 Transcription
82
1873
Alt. [altitude] Little Yo [Yosemite] Valley 6350.
" Ridge close to E [east] side Tissiack 8150
View from Starr King very fine in direction of the Merced Group. All its peaks are seen rising grandly belted with fir. Deeply snowed May 3 1873
Lyell also snow muffled, peaks & crests free & black.
Clouds Rest like a massive wave streaked with foam.
Deep continuous fields of snow on flank of the Hoffman Range.
From the slate foothills of the Sierra to Stockton first 15 miles of round hillocks of stratified lavas conglomerates clay etc in many places exposing finely colored sections along the sides of valleys & streams. Color of red lichens is very marked.
Fine section along Tuolumne R. [River] two miles below La Grange dipping slightly to the westward.
In this formation there is a great number of hemispherical hills seldom more than a 100 ft [feet] high. & many small lake basins that have at no time been deep, most have covering of fine sediment derived from flood waters.
Most of these basins occur in the valleys of rivers
83
or "dry creeks". How were these valleys eroded? There is no sign of disturbance. All seems the result of tranquil erosion Probably accomplished when there was vastly more water flowing in these channels at the breaking up of the Glacial Period.
Passing on from these round foothills we come to long sandy plains. Next to 15 miles of dead level which is overflowed by back water from the San Joaquin which being muddy in floodtimes leaves sediments that constantly increasing makes soil of great fertility.
Tenaya Fall
Alt [altitude] top of Tenaya Fall about 4550 feet
" bottom fall to top " 210 "
from top to head of cascade " 70 "
Heuchera very abundant & in flower June 18th 1873
Also Bolandera [Phacelia bolanderi]
Delightful rosettes of Echeveria on moss on rocks
Falls in full grandeur coming out of groves of alder & dogwood, dashing down a wrinkled apron of granite & leaping a leafy precipice
A charming fall [divided & narrow] foaming white among green leafy trees bathing & laving their outspreading branches which beat time to its tones of rejoicing trees above, trees beneath trees in its midst, alder, pine, spruce & oak.
Resource Identifier
MuirReel32 Notebook01 Img044.Jpeg
Contributing Institution
Holt-Atherton Special Collections, University of the Pacific Library