Preview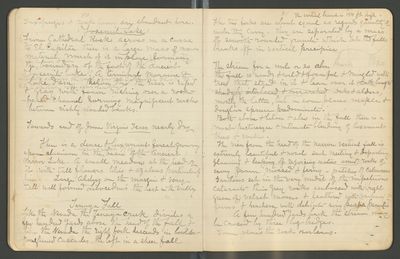 Transcription
80
Saxifrages & rock ferns are abundant here.
Yosemite Lake
[From Cathedral Rocks across in a curve to El Capitan there is a large mass of moraine material much of it in place forming]
A terminal moraine [& lake dam] extends across the vall [valley] from Cathedral Rocks to El Capitan wh [which] [evidently?] formed the lower dam boundary of the foot of the ancient Yosemite Lake. Below this the river is rapid & gray with foam rushing over a rock-paved channel forming magnificent reaches between richly wooded banks
Towards end of June Virgins Tears nearly dry
There is a dense & luxuriant forest growing upon aluvium [alluvium] in the upper part of the basin of [the ancient] Mirror Lake. A small meadow at the head of it with tall flowers lilies & azaleas particularly fine. Large alders on the margin & very tall well formed Libocedrus the best in the valley.
Tenaya Fall
Like the Nevada the Tenaya Creek divides a few hundred yards above the head of the fall, & like the Nevada the right fork descends in boulder-roughened cascades, the left in a sheer fall
81
The vertical branch is 150 ft [feet] high. The two forks are about equal as regards quantity of water they carry. They are separated by a mass of smooth-rounded granite which at the falls breaks off in vertical precipice
[sketch: cascade fall]
The stream for a mile or so above the fall is woody & wild & foamful & mingled with trees that stand in it & lean over it [with boughs shadily interlaced & overarched] [shady interlacing arches] oaks & alders, mostly the latter, but in some places maple & douglas spruce predominate.
Both above & below & also in the fall there is a [most] picturesque & intimate blending of luxuriant trees & rocks.
The view from the head of the narrow vertical fall is extremely beautiful & novel such meeting & departing, glancing & leaping of rejoicing water amid [rocks of every form,] mossed & ferny patches of calmness gardens set in the very midst of the impetuous cataracts their grey rocks embossed with [bright green of] velvet mosses & feathered with [arching] ferns & heuchera with delicate airy purple panicles
A few hundred yards back the stream may be crossed by three log-bridges.
Some places the rock overleans.
Resource Identifier
MuirReel32 Notebook01 Img043.Jpeg
Contributing Institution
Holt-Atherton Special Collections, University of the Pacific Library