Preview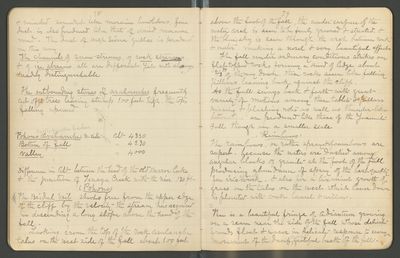 Transcription
78
& rounded somewhat like moraine boulders, fine dust is also produced like that of dried moraine mud. The dust of High Sierra gullies is produced in this way
The channels of snow-streams, of rock streams, & of ice streams, all are different yet not always readily distinguishable
The outbounding stones of avalanches frequently cut off trees leaving stumps 100 feet high, the tops falling upward
[sketch of tree with stem broken by large rock]
Pohono [Avalanche] Earthquake talus W. [West] side alt [altitude] 4330
Bottom of fall " 4230
Valley " 4000
Difference in alt. [altitude] between the head of the old Mirror Lake & the junction of Tenaya Creek with the river 130 ft [feet]
Pohono
The Bridal Veil shoots free from the upper edge of the cliff by the velocity the stream has acquired in descending a long slope above the head of the fall.
Looking from the top of the rock avalanche talus on the west side of the fall about 100 feet
79
Above the foot of the fall, the under surface of the water arch is seen to be finely ground & striated, & the [blue] sky is seen through the arch between rock & water making a novel & [very] beautiful effect.
The fall under ordinary conditions strikes on flat topped rocks forming a kind of ledge about 2/3 [two-thirds] of the way down. These rocks seem like falling pillars leaning back against the cliff.
As the fall sways back & forth with great variety of motions among these tablets & pillars kissing & plashing notes as well as thunder-like detonations are produced like those of the Yosemite Fall though on a smaller scale
Rainbows
The rainbows, or rather spray-&-foambows are superb, because the waters are dashed among angular blocks of granite at the foot of the fall producing abundance of spray of the best quality for iris effects [work], & also for a luxuriant growth of grass on the talus on the west which lower down is planted with oak laurel & willow.
There is a beautiful fringe of adiantum growing on a seam near the side of the fall whose delicate fronds float & waver in delicate response to every movement of the [damp] moist [grateful] breath of the fall.
Resource Identifier
MuirReel32 Notebook01 Img042.Jpeg
Contributing Institution
Holt-Atherton Special Collections, University of the Pacific Library