Preview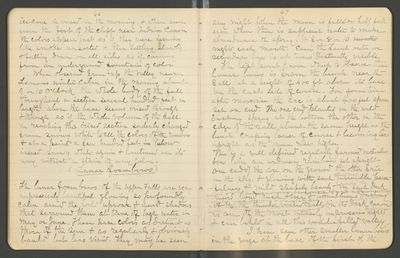 Transcription
66
ice-cone is irised in the morning, & when seen from the foot of the cliff near Indian Canon the colors appear just as if they were issuing like smoke unsorted & then settling slowly & falling down on all sides, as if coming from an underground fountain of color
When observed from up the valley near Lamons [Lamon's] winter cabin in the morning about 9 or 10 o'clock the whole body of the fall throughout a section several hundred feet in length above the base seems irised through & through as if the whole volume of the fall is reaching this irised section sudenly [suddenly] changed from snowy white to all the colors of the rainbow & at a point a few hundred feet [in] below issued snowy white again & [continued] on its way without a stain of any color.
Lunar foam bows
The lunar foam bows of the Upper Falls are very impressively beautiful glowing so profoundly calm amid the wild uproar & weird shadows that surround them at time of high water in May or June. These have colors as distinct as those of the sun & as regularly & obviously banded but less vivid. They may be seen
67
any night when the moon is full or half full even when there is sufficient water to make abundance of spray. & for 8 or 10 [months] nights each month. Even the faint outer or secondary bow is at times distinctly visible
The best point from which to observe these lunar bows is from the bench near the fall at a height of 400 ft [feet] above its base on the east side of course. For some time after moonrise the arc is about [400] 500 feet span set on end. The one end planted in the wild dashing spray at the bottom the other in the edge of the fall about the same height as the bench creeping lower of course & becoming less upright as the moon rises higher.
This is a well defined regularly formed motionless bow like an ordinary rainbow set upright one end of the arc on the ground the other free in the sky, & glowing with such steadfast [invincible] peacefulness & mild shapely beauty [inside the] in such dark [amid such horrendous roaring dark surroundings] weird loud rush & roar & tumultuous dashing [terrible wilderness & darkness] of this the thunder voiced fall (in its dark canon) is one of the most intensely impressive [sights] night scenes & ever [offered] beheld in all this wonder filled valley
I have seen other smaller lunar bows in the gorge at the base of the first of the
Resource Identifier
MuirReel32 Notebook01 Img036.Jpeg
Contributing Institution
Holt-Atherton Special Collections, University of the Pacific Library