Preview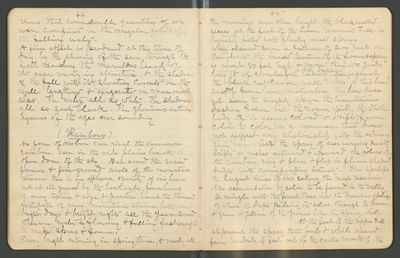 Transcription
64
shows that considerable quantities of air were confined in the irregular folds of the falling water.
A fine effect is produced at this time of day by the shining of the sun through the fall revealing the marvelous beauty of its ever varying structure, & the shadows of the fall with its shooting comets cast on the wall lengthening & also exaggerated in movement [also]. The water all so white The shadows all so sooty black. The glorious anthems hymns of the ages ever sounding.
Rainbows
No form of iris bow can rival the common rainbow seen in the wide plains beneath the open dome of the sky. But amid the varied foams & fine-ground mists of the mountain streams there is an affluence & variety of iris bows not at all guessed by the lowlander, foam bows of every texture & size & position haunt the thousand waterfalls of every [mountain stream] river both [in bright days] day & [bright nights] night all the year round whenever water is [flowing &] falling [fast enough to make] in spray & foam.
Every bright morning in springtime, & nearly all
65
the mornings are then bright, the black-walled recess at the foot of the Lower Yosemite Fall is [lavishly] fairly filled with flowing irised sprays
When observed from a distance of 200 yards or thereabouts the irised portion of the foam + spray is about 50 feet high & more than 100 yards [long] wide [& of wonderful beauty seen] vividly displayed against the black wet [canon] wall. Nor is this broad arc [of foam bow] motionless. The bow does not seem to simply span the tumultuous dashing foam but the foam itself the whole body of it seems colored & drifts [from color to color] in a manner that does not suggest any relationship with the ordinary motionless rainbow. As the spray of ever varying density drifts & rushes outward & upward the [colors of the rainbow] iris colors seem to vary & flow & flap in flame shaped drifts with corresponding intensity. This is perhaps the largest & most reservoir-like mass of iris colors [the most reservoir-like accumulation of color] to be found in the valley
It mingles with the [forest] trees, into the branches & foliage of which it drifts pulsing its colors through the brown & green & yellow of the groves like the spray itself
At the foot of the Upper Fall at present the spray that boils & whirls upward [from] hundreds of feet out of the crater mouth of the
Resource Identifier
MuirReel32 Notebook01 Img035.Jpeg
Contributing Institution
Holt-Atherton Special Collections, University of the Pacific Library