Preview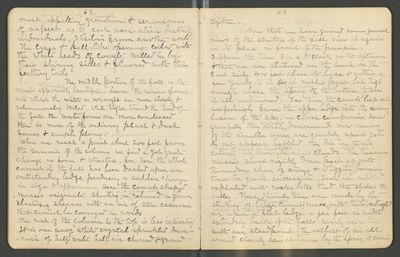 Transcription
62
most wonderful beauty [appalling grandeur] & seriousness of aspect as if each were alive, distinct individuals, visitors from another world, the caves & hall-like openings ceiled with the white heads of comets, walled in by their shining sides & floored with their feathery tails.
The middle position of the fall is the most obviously apparently beautiful. Lower the various forms into which the water is wrought are more closely & voluminously veiled. While higher toward the head of the fall the water forms are more condensed there is more of the ordinary plash & dash forms & simple plumes & streamers
When we reach a point about 200 feet from the summit of the column we find a yet greater change in form & structure, for here the whole current of the fall has been dashed upon an outstanding ledge producing a sudden change in size & appearance Here the comet shaped masses originate shooting out in [glancing] rebound in glorious clustering sheaves with an air of stern assurance that cannot be conveyed in words
The rest of the column to the top is less interesting
It is one wavy white crystal-sprinkled down-rush of half water half air churned & ground &
63
rubbed together.
[Fir/For/Fr] Yo [Yosemite]
Now that we have gained some general views of the structure of the fall view it again in its place in front of the precipice. Suppose the time 3 or 4 o'clock in the afternoon & that we are stationed on the bench on the East side 400 feet above its base & within a few yards of it as it rushes past but high enough above the obscuring spray of the bottom to see it all undimmed. See how the comets in close companies leap out confidingly from the upper ledge into the sunny bosom of the sky. How gracefully they [arch] curve downward How many of the smaller ones are quickly spent yet do not appear baffled, they die in the air calmly as wisps of mist in sunshine [sun-absorbed clouds] absorbed by the sun. The heavier masses shoot rigidly down past us with tremendous show of energy & whizzing low tones booming in quick succession. Some are suddenly exploded with rocky like thnd [thunder] that shakes the valley. These thunder tones are made by the striking of [large comet] the heavy masses with [their] air entangled [air] in thin [folds] upon a flat ledge a few feet in width extending back of the falls nearly on a line with our standpoint. The outburst of air all around clearly seen at times by the spray it carries
Resource Identifier
MuirReel32 Notebook01 Img034.Jpeg
Contributing Institution
Holt-Atherton Special Collections, University of the Pacific Library