Preview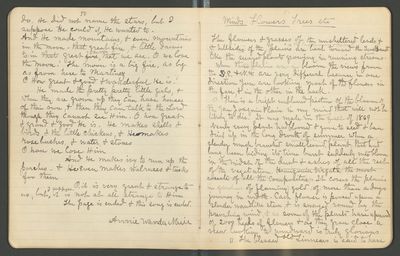 Transcription
50
do, He did not name the stars, but I suppose He could if He wanted to.
And He made mountains, & even mountains in the moon – that great fire, & little daisies too in that great [fire] moon that we see. O we love the moon! The moon is a big fire, as big as from here to Martinez
O How great & good & wonderful He is!
He made the pretty pretty little girls, & when they are grown up they can have houses of their own, & then they can talk to the Lord though they cannot see Him. O how great & grand & good He is. He makes shells & birds & the little chickens, & He makes rose bushes, & water, & stones
O how we love Him
And He makes ivy to run up the porches. & He Even makes walruses & tusks for them
O, it is very great & strange to us, but I suppose it is not at all strange to Him
The page is ended & this song is ended.
Annie Wanda Muir
51
Winds Flowers Trees etc
The flowers & grasses of the unsheltered levels & [& hillsides] of the plains |o| [between] the Tuolumne & Merced are bent toward the southeast like the swayed plants growing in running streams.
When these plains are in bloom the views from the S.E. [southeast] and N.W. [northwest] are very different because in one direction you are looking most of the flowers in the face, & in the other in the back.
There is a bright unblurred picture of the bloom of the San Joaquin Plain in my mind that will not be likely to die. It was made in the fall of 1869
Nearly every plant had bloomed & gone to seed & been dried up in the long drouth of summer when a slender much branched small leaved composite plant Hemizonia [Holocarpha] virgata that had long been biding its time burst suddenly into bloom in the midst of the dust & ashes of all the rest of the vegetation. [Hemizonia virgata (the most roseate of all the Compositae).] It covers the plains in gardens of [flaming] gold [of] more than a days [day's] journey in width. Each flower is poised upon a slender wand-like stem, & is swayed round by the prevailing wind, & as some of the plants have upwards of 2000 heads of flowers & as they grow close a view looking to windward is truly glorious.
The blessed old Linneaus [Linnaeus] is said to have
Resource Identifier
MuirReel32 Notebook01 Img028.Jpeg
Contributing Institution
Holt-Atherton Special Collections, University of the Pacific Library