Preview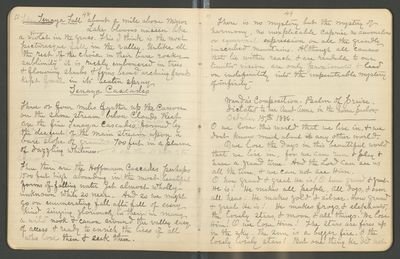 Transcription
48
The Tenaya Fall about a mile above Mirror Lake blooms unseen among trees like a violet flower in the grass. This I think is the most picturesque fall in the valley. Unlike all the rest of the choir in their bare rocky sublimity it is richly embowered in trees & flowering shrubs & ferns broad arching fronds kept fresh in its beaten spray
Tenaya Cascades
Three or four miles farther up the Canon on the same stream below Clouds Rest are the fine Tenaya Cascades [formed by the] wh [which] make a descent of [the main stream] 700 feet in a plume of dazzling whiteness upon a bare smooth slope of granite & on the N [north] wall of the canon.
Then there are the Hoffmann Cascades perhaps 1500 feet high abounding in [the most] beautiful forms of falling water yet almost wholly unknown while so near. And so we might go on enumerating fall after fall of every kind singing gloriously [in their] in many a wild nook & canon around the valley easy of access & ready to enrich the lives of all who love them & seek them.
49
There is no mystery but the mystery of harmony, no inexplicable caprice no anomalous or equivocal expression on all the grandly inscribed mountains. Although all causes that lie within reach & are readable to our limited vision are only proximate & lead on indefinitely into the impenetrable mystery of infinity.
Wanda's Composition. Psalm of praise dictated to her Aunt Anna in the home parlor, October 15th, 1886.
O we love this world that we live in, & we dont [don't] know much about [it] any other world. O, we love the days in this beautiful world that we live in, for we can run & play& have a grand time. And the Lord can see us all the time, & we can not see Him.
O how grand& great He is! O how grand & great He is! He makes all people, all dogs, & even all hens. He makes gold& silver. How grand & great he is! He makes frogs, & elephants, the lovely stars, & moon & all things. We love Him! O we love Him! The stars are fires up in the sky. The sun is a bigger fire. O the lovely lovely stars! But one thing He did not
Resource Identifier
MuirReel32 Notebook01 Img027.Jpeg
Contributing Institution
Holt-Atherton Special Collections, University of the Pacific Library