Preview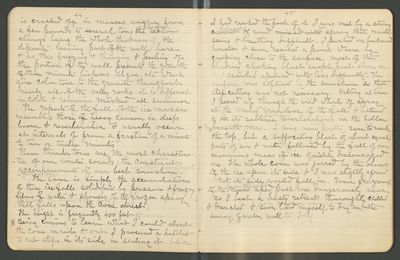 Transcription
44
is cracked off in masses weighing from a few pounds to several tons the large sections always being the whole thickness of the deposit[s] leaving part of the wall bare & as this freezing & thawing & peeling of this portion of the wall prevents the growth of those minute lichens, algae, etc which give color tone to the granite throughout nearly all of the valley rocks it is different in color & remains marked all summer
The reports of the fall of the ice masses resemble[s] those of heavy cannon in deep boom & reverberation & usually occur at intervals of from a fraction of a minute to ten or twelve minutes
These thunder tones are the most characteristic of our winter sounds; the constant accompaniments of our best weather frosty nights sunshine & calm sunny days.
The cone is simply the accumulation of these ice falls solidified by pressure and freezing films of water & showers of the frozen spray from the sides of the fall [that falls upon the cone direct]
The height is frequently 400 feet or more
Being curious to learn what I could about the cone inside & out I procured a hatchet to cut steps in its side in scaling it, but ere
45
I had reached the foot of it I was met by a strong blast [current] of wind [mixed with] & spray that made seeing & breathing difficult. I pushed on backward however & soon reached a point where by creeping close to the surface most of the blinding choking blast swept past above me & I crawled upward with less difficulty. The surface was softened by the sunshine so that step cutting was not necessary. Halting at times I peered up through the wild whirls of spray at the veiled grandeur of the fall & listened to [the] its [sublime] solemn reverberations in the hollow cone [beneath me]. I [was] now felt pretty sure [to] of reaching the top, but a suffocating blast of about equal parts of air & water followed by the fall of an enormous mass of ice quickly discouraged me The whole cone was jarred by the blows of the ice upon its side & I was slightly afraid that its side would fall in. Some fragments of the [mass] from the cliff sped past [me] dangerously near so I beat a hasty retreat thoroughly chilled & drenched & [soon laid myself to dry on] lay down on the sunny garden wall to dry.
Resource Identifier
MuirReel32 Notebook01 Img025.Jpeg
Contributing Institution
Holt-Atherton Special Collections, University of the Pacific Library