Preview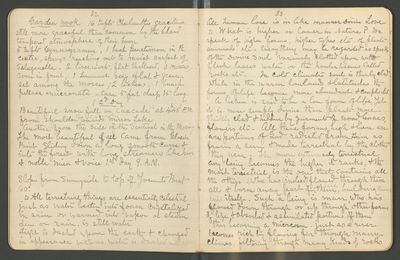 Transcription
32
Garden nook 16 tufts Cheilanthes gracilima [gracillima] still more graceful than common by the bland tempered atmosphere of their home
5 tufts Gymnogramma, 1 bush penstemon in the centre, sprays reaching out to moist carpet of Selaginella. 2 flat thallused liverworts, 3 mosses, some in fruit, 1 Liverwort very flat & green set among the mosses; 2 lichens; 1 bunch Pellaea mucronata. Cave 5 feet deep 15 long.
2d [second] Day
Beautiful snow fall on Cascade from the Side of the Sentinel in the Morning Another at 4.45 p.m. from E [East] shoulder of Tissiack towards Mirror Lake
The most beautiful of all came down from Glacier Point gliding down a long smooth curve & into the forest with long streams like hair & noble mien & voice 1st day 9. A.M.
Slope from Sunnyside to top of Yosemite Point 60° [degrees].
All terrestrial things are essentially celestial just as water beaten into foam crystalized [crystallized] in ice snow or warmed into vapor or steam dew or rain, is still water
Light is dashed upon the earth & changed in appearance just as water is dashed into spray.
33
All human love is in like manner Divine Love
What is higher or lower in Nature? We speak of higher forms, higher types etc of plants animals etc. Everything may be regarded as sparks of the Divine Soul variously clothed upon with flesh leaves water or the harder tissues called rocks etc. In cold climates Soul is thinly clad. While in the warm lowlands & latitudes the forms of life become more abundant & complicated
A lichen is said to be a low form of life, Yet it is more simply divine than plants more thickly clad & hidden by garments of wood, leaves, flowers etc. All these forms high & low are (are) portions of God radiated from Him as from a sun & made terrestrial by the clothes they wear. The more extensively terrestrial any being becomes the higher it ranks; & the most terrestrial is the one that contains all the others, (who) has (indeed) flowed though them all & borne away part of (them) each building them into itself. Such a being is man, who has flowed down through or up through other forms of life & absorbed & assimilated portions of them thus becoming a microcosm, just as a river becomes rich by flowing far through many climes, filtering through many kinds of rocks
Resource Identifier
MuirReel32 Notebook01 Img019.Jpeg
Contributing Institution
Holt-Atherton Special Collections, University of the Pacific Library