Preview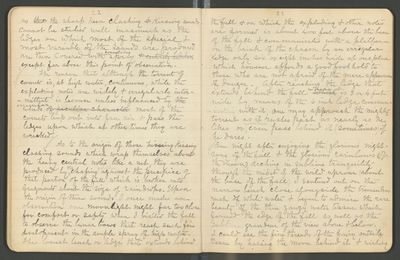 Transcription
22
as [ ] the sharp keen clashing & kissing sounds cannot be studied well inasmuch as the ledges on which most of the special & most variable of the sounds are produced are then covered with convolving spray [& entirely hidden] except for above this point of observation.
The reason that although the torrent of comets is, at high water, continuous, while the exploding notes are widely & irregularly intermittent is because unless influenced by the irregular winds [of peculiar character] most of the comets leap out into free air & pass the ledges upon which at other times they are wrecked
As to the origin of those hissing kissing clashing sounds which wrap themselves about the heavy central notes like a net, they are produced by the chafing & [glinting] against the precipice of that portion of the fall which is broken into fragments about the size of raindrops. Upon the origin of these sounds I once made an observation one moonlight night far too close for comfort or safety when I visited the fall to observe the lunar bows that reach such fine development in the ample spray of high water. The lowest bench or ledge that extends behind
23
the fall & on which the exploding & other notes are formed is about 400 feet above the base of the fall & communicates with a platform on the brink of the chasm by an irregular ledge only six or eight inches wide at one place which however affords a good foot hold to those who not afraid of the mere appearance of danger. After reaching the ledge that extends behind the fall where it [which] is 3 or 4 feet wide by means of the 6 inch ledge communicating with it, one may approach the mighty torrent as it rushes past as nearly as he likes or sometimes even pass behind it (sometimes) if he dares.
[Omit]
One night after enjoying the (glorious) night-song of the fall & the glorious rainbows (of the moon) arching in sublime tranquility through the midst of the wild uproar (about the base of the fall) I ventured out on the narrow bench close alongside the tremendous rush of white water & began to admire the rare beauty of the [thin] gauzy water tissue which formed the edge of the fall as well as the sublime grandeur of the view above & below. I could see the fine threads of the fairy outside tissue by having the moon behind it & wishing
Resource Identifier
MuirReel32 Notebook01 Img014.Jpeg
Contributing Institution
Holt-Atherton Special Collections, University of the Pacific Library