Preview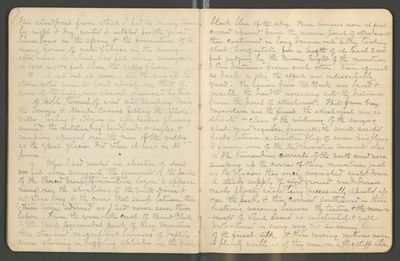 Transcription
16
[Omit]
This standpoint from which I had so many times by night & day waited & watched for (the grand) lunar bows in the spray & the formation of the many forms of water fabrics in the sunny afternoon is about 1000 feet above sunnyside or 1400 or 1500 feet above the valley floor.
I set out at noon. All the way up the storm notes were so loud about me that the voice of the falls was almost drowned by them.
(A) Noble wind torrents (of wind was) were sweeping down the Tenaya & Nevada Canon filling the (whole) valley, boiling & eddying in side canons glancing around the outstanding headlands & angles & sweeping upon and over the rim of the valley as the great glacier did when it was in its prime.
When I had reached an elevation of about 800 feet above Sunnyside where the summits of the peaks of the Merced Group come in sight (of mountains began to appear rising) over the shoulders of the South Dome & Mt [Mount] Starr King & the curves that sweep between them (These were) I was surprised to see them adorned as I had never seen them before. From the wave-like crest of Mount Clark & the sharp pyramidal peak of Gray Mountain there streamed magnificent banners of drifting snow showing in dazzling splendor on the dark
17
black blue of the sky These banners were at first curved upward from the narrow point of attachment then continued in long drawn out horizontal silky looking sheets (horizontally) for a length of at least 3000 feet judging by the known height of the mountains & their distances from each other. Seen [Relieved] against so dark a sky the effect was indescribably grand. The banner from Mt [Mount] Clark was broad & variable the breadth increasing with the distance from the point of attachment. That from Gray Mountain [Gray Peak] was the finest the attachment was so delicate & clean & the widening of the swaying sheet was so regular, from (all) the small serrated peaks between (a) smaller snow flags (of snow was) were flying & from one of the Red Mountain summits also
The tremendous currents of the north wind were sweeping up the curves of these mountains just as the glaciers they once nourished swept down. A steady supply of wind ground wind-driven [mealy] frosty snow just being (incessantly) spouted up over the peaks & then carried southward in those lustrous wavering banners the texture [& the movements] of which seemed as substantial & well proportioned in every way as [so many] banners of the finest silk, & their waving motions were as plainly visible as if they were on a flagstaff above
Resource Identifier
MuirReel32 Notebook01 Img011.Jpeg
Contributing Institution
Holt-Atherton Special Collections, University of the Pacific Library