Preview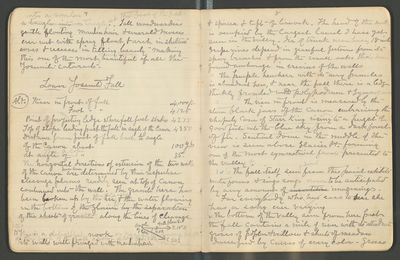 Transcription
7
[a tangle into a ] into a similar tangle at the foot of the fall. Tall woodwardias gentle floating maidenhair & emerald mosses ever wet with spray float & arch in sheltered coves & recesses in telling beauty making this one of the most openly tellingly beautiful of all the Yosemite cataracts.
Lower Yosemite Fall
Alt. [altitude] River in front of full 4000 [ft] [feet]
Foot " " 4125
Point of projecting ledge where fall first strikes 4275
Top of slope leading past the fall in angle of the [Canon] [canyon] 4350
Distance from foot of fall back to angle of the Canon [canyon] about 100 yds [yards]
[at angle of] The slope " 35° [degrees] The horizontal directions of extension of the two walls of the canon [canyon] have been are determined by their respective cleavage planes readily seen at top of canon [canyon] continued into the wall. The granite here has been broken up by the [ice] glacier & the water flowing in the bottom of it [the glacier by the separation of the sheets of granite] along the lines of cleavage. [sketch: 40 degree, angle of can [canyon] Fall flows S. [south] E [east] 10 degrees S [south] [sketch of circle, x, and rectangle.] This is a delightful nook or recess running back of the foot of the fall about a 100 yds [yards] [xo] [on] [the] [W] [west] side its walls well fringed with maidenhair
8
& spiraea & tufts of live oak. The head of the [nook] is occupied by the largest laurel I have yet seen in the valley, dia [diameter] of trunk near base, 18 inches. Grape vines depend [descend] in graceful festoons from its spicy branches & from the small oaks that have found anchorage in crevices of the walls.
[sketch of square] The purple heuchera with its airy panicles is abundant here, & near the fall there is a ledge thickly fronded with polypodium & gymnogram.
[sketch of square] The view in front is measured by the stern black jaws of the canon [canyon] embracing the shapely cone of Starr King rising to a height of 9000 feet into the blue sky from a dark forest of fir. Sentinel dome in the middle of the view is seen above Glacier Pt. [Point] forming one of the most symmetrical fronts presented to the valley &.
[sketch of blue checkmark ] The fall itself seen & heard from this point exhibits water forms & sings songs never to be anticipated by any amount of [inventitive] [inventive] imaginings.
[For everybody who has ears to hear she has a song ever varying.]
[sketch of blue checkmark] The bottom of the valley seen from here past the fall contains a mile of river with its attendant groves of poplar & willow & sheets of meadow diversified by curves of every color. Groves
Resource Identifier
MuirReel31 Notebook11 Img007.jpg
Contributing Institution
Holt-Atherton Special Collections, University of the Pacific Library