Preview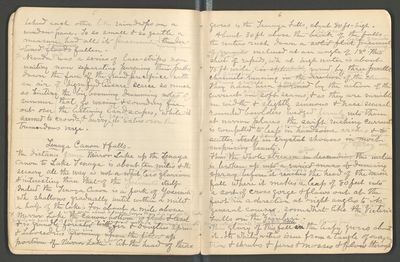 Transcription
5
behind each other like raindrops on a window pane. To so small & so gentle a measure had all its passionate springtime thunder-toned [floods] [fullness] fallen.
The Nevada Fall was a series of lace-strips now uniting now separating pursuing their paths down the face of the grand precipice with an air of dignified leisure scarce so much as hinting the big booming drumming notes of summer that go [waving &] sounding forth [far out] over the listening landscapes, while [it seemed to] crowding & hurrying floods its waters over the thunderous verge.
Tenaya Canon & Falls
The distance from Mirror Lake up the Tenaya Canon to Lake Tenaya is about ten miles & the scenery all the way is [not a whit] hardly less [glorious &] interesting than that of the Yosemite itself. (Indeed the Tenaya Canon is a fork of Yosemite wh [which] shallows gradually until within a mile & a half of the Lake). For about a mile above Mirror Lake [the Canon bottom is flat & level & is grandly forested with] was once about a mile longer than it is now & the [land] filled up part of its basin is [covered] with a [luxuriant] growth of fir & Douglas spruce & Libocedrus - pine etc. [growing upon the filled up portion of Mirror Lake basin]. At the head of these
6
groves is the Tenaya Falls, about 80 ft high. About 30 ft above the [brink] brow of the falls the waters rush down a [solid flat] bare granite pavement [of granite] inclined at an angle of 18 [degrees] [This] forming a flat sheet of rapids, wh [which] at high water us about 75 ft wide, [& is splendidly] varied by three [parallel channels] grooves running [in the direction of] parallel with the stream [they] these grooves have been [formed] made by the action of the current on clvg [cleavage] [joints] (soft seams), & as they are variable in width & slightly sinuous & have (several) rounded boulders wedged firmly into them at narrow places the swift water (rushing current) is compelled to leap [dance] & dance [hurrahing] in [handsome] arches & [to scatter itself in crystal] showers [in most surprising beauty] [ [ ] & [in]] of crystal spray.
[Thus the whole stream is thus in descending this incline is broken up into a varied mass of dancing spray before it reaches] on its way to the head of the main fall where it makes a sheer leap of 80 feet into a [sort of] cross gorge & flows out at the foot of it in a direction at right angles to its general course, somewhat like [the] at the Victoria Falls [on] [waters] of the Zambezi.
Comparatively small Tenaya Fall The glory of this [little] fall [are] is the leafy flowering [ferny] grove[s] about it. Its white waters issue from a tangle of evergreen trees & shrubs & ferns & mosses & [flow through]
Resource Identifier
MuirReel31 Notebook11 Img006.jpg
Contributing Institution
Holt-Atherton Special Collections, University of the Pacific Library