Preview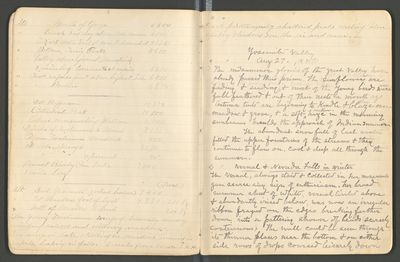 Transcription
3
Alt. [altitude] Mouth of Gorge 5850
" Lunch 2nd day above Soda canon 6000
" [Tissiack] Mtn [mountain] East of can. [canyon] I descended 4675
" Bottom, Twin Peaks 5600
" Valley above Grand Mountain[s] 3 miles long terminates at rapids 6300
" Foot rapids just above highest trib. [tributary] 6400
" " [Pointer] 6875
Mt Hoffman 10,872
Cathedral Peak 11,000
Above surrounding plateau 2,500
Divide of Tuolumne & Merced 9,070
Above Tuolumne Meadows 500
Alt [altitude] Soda springs 8680
" " [aperient] 40 degrees
Lowest Bloody Can [Canyon] Lake 7000 1 mile long
(Tuol) [Tuolumne]
Alt. [altitude] 3rd Yosemite ([where] horses) 7450
" 1st meadow, foot of Lyell 9370-200?
Fall of Meadow to bend 200?
The young Tuolumne singing leisurely among winding cañons and willowy meadows.
Now asleep in lake, strolling in meadows, running in rapids, leaping in falls. Describe from source to HH [Hetch Hetchy].
4
Dark picturesquely shattered peaks casting blue spikey shadows over the ice and neve.
Yosemite Valley Aug 27, 1871(?)
The midsummer glories of the great valley have already passed their prime. The plant bloom is beginning to fade seeds getting ripe (sunflowers are fading & seeding), & most of the young birds [are] were full feathered & out of their nests a month ago
Autumn tints are beginning to kindle & blaze [glow] over the meadow & grove, & a soft mellow haze in the morning sunbeams heralds the approach of Indian summer
The abundant snowfall of last winter filled the upper fountains of the streams & they continue to flow on, cool & deep all through the summer.
Vernal & Nevada Falls in the Winter
The Vernal, always staid & collected in her movements gave scarce any sign of enthusiasm. Her broad summer sheet of white, vernal tinted above & abundantly irised below, was now an irregular ribbon frayed on the edges breaking farther down into a pattering shower of beads (scarcely continuous). The wall could be seen through its thinner places near the bottom & on either side rows of drops coursed leisurely down
Resource Identifier
MuirReel31 Notebook11 Img005.jpg
Contributing Institution
Holt-Atherton Special Collections, University of the Pacific Library