Preview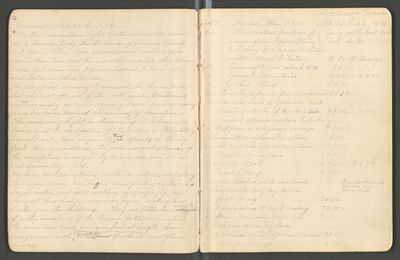 Transcription
1
Yosemite. Sep. 25th, 1874.
In the mountain light, Oakland winter seems all a dream. Only the kindness of friends stands out clear. Pine trees, granite, and water ouzels now. How true, and pure, and immortal they seem to me, yet somehow I feel satisfied to leave all and labor in other fields.
The very first evening I came in, the brave owl that was not afraid of the earthquake, [too-hooed] unnervously as ever. Having heard him so many years, his voice seemed charmingly familiar.
The morning light is streaming in between the domes and the sculpture of the arches is splendidly brought out. How eloquently [it] they speak[s] of the icy past. How marvelous the richness and delicacy of the sculpture wrought by so simple, and blunt and unwieldy a tool.
I've been out sauntering on the meadows, and along the sleepy river. Two ouzels came glinting on the crisp bright water, and after nodding recognizingly, and doing all their dainty manners, began wading and ducking in the shallows. They are little dun [maggots] nuggets of water music, as if the brown pebbles over which the river has sung for ages had as length been overgrown with feathers instead of mosses and flown away..
2
Tuolumne Cañon
Alt. [altitude] 1st bench HH [Hetch Hetchy] Going out by trail 420 2nd do [ditto] do [ditto] - 1500
Alt. [altitude] Beveled Mtn [mountain] 9200
Dir. [direction] Main central portion of Canon from Upper Main tributary to 2 or 3 miles below middle Main tributary S [south] 40 W [west]: (Nearly.)
Alt. [altitude] Overswept wall above HH [Hetch Hetchy] 8800
" Grand Mountain 9500-6420
" Gothic Point 9520
" First high point after ab. [abundant] swept wall 9575
" Point at hand of Yosemite Creek basin, west side of Cañon side [de]scended opposite middle tributary. 9800-4800
" Wall from HH [Hetch Hetchy] to Grand [ ] 9000?
" Summit rim Glacier Fountain 9600
" Lake East side, Grand Mountain 9200
" Middle Mountain 5900
" Castle Peak 4400-9575 [line drawn connecting 9575 in this line to 9575 several lines above]
" First Camp 8700
" Gorge blocked with avalanche boulders etc. half day above first camp 4060 Emerald cascade 2 miles below Deer Park.
" 1 mile above 1st Big Tributary 4570
" Main Mountain South side 4800
" Rock face above big Soda
" vertical as El. Capitan - near head. 5650
" Hunger Camp 5700
Resource Identifier
MuirReel31 Notebook11 Img004.jpg
Contributing Institution
Holt-Atherton Special Collections, University of the Pacific Library