Preview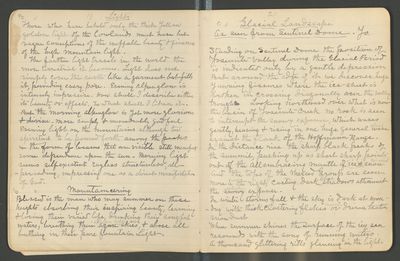 Transcription
19 Light
/// ○ √ Those who have beheld only the thick yellow golden light of the lowlands must have but vague conceptions of the ineffable beauty & fineness of the high mountain light.
The farther light travels in the world the more terrestrial it becomes. Light does not simply cover the earth like a garment but fills it, pervading every pore. Evening alpenglow is intensely impressive. How shall I describe either its beauty or effects, to what shall I liken it. [But] the morning alpenglow is yet more glorious [& divine]. More simply & more simply & [immediately] godful evening light on the mountains although too spiritual to be poured forth among the peaks in the form of beams that are visible still manifest, some dependence upon the sun. Morning light seems selfexistent [self-existent] rayless structureless, all pervading, impressing one as a direct manifestation of God.
/// ○ √ Mountaineering
Blessed is the man who may summer on these heights absorbing their inspiring beauty, learning & loving their varied life, drinking their songful waters, breathing their clean vital air [azure] skies, & above all bathing in their pure fountain Light.
20
/// ○ √ Glacier Lanscape
As seen from Sentinel Dome – Yo [Yosemite]
Standing on Sentinel Dome the position of Yosemite Valley during the Glacial Period is indicated only by a gentle depression But around the edge of it we discover huge yawning fissures where the ice-sheet is broken in crossing diagonally over the valley trough. Looking northward over what is now the basin of Yosemite Creek no rock is seen to interrupt the snowy expanse, which waves gently heaving & rising in one huge general sheet [wave] against the flank of the Hoffmann Range.
In the distance rise the (sharp) black peaks of the summit, pushing up as short sharp points out of the all embracing mantle of ice [ ] covered snow. And the tops of the Merced Group are seen more to the right, casting dark blue shadows athwart the white [snowy] expanse.
In winter storms fall & the sky is dark at noonday with thick clustering flakes or wind driven [beaten] snow-dust.
When summer shines the surface of the icy sea resounds with the song of running waters. A thousand glittering rills glancing in the light
Resource Identifier
MuirReel31 Notebook11 Img013.jpg
Contributing Institution
Holt-Atherton Special Collections, University of the Pacific Library