Preview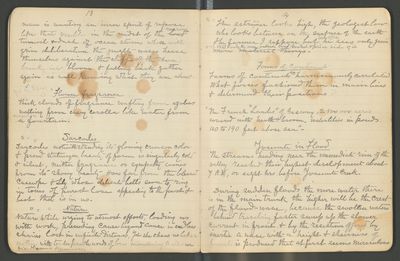 Transcription
13
never is wanting an inner spirit of repose like that visible in the midst of the [loud] roaring turmoil & dash of ocean storms when with grim deliberation the mighty waves heave themselves against (the) cliffs [(of the shore]) break into bloom & falling back gather again for another [blow] as well knowing what they are about
[sketch of blue checkmark; two circles] Yo [Yosemite] in spring Flower Fragrance
Thick clouds of fragrance wafting from azaleas welling from every corolla like water from noiseless
[a] fountains.
[Sketch of square; blue checkmark; circle] Sarcodes
Sarcodes notwithstanding its glowing crimson color & proud statuesque beauty of form is singularly cold & silent, neither fragrance or sympathy comes from its showy beauty. How far from the blessed Cassiope & Lily whose delicate bells seem to ring in tones of purest love appealing to the finest & best that is in us.
[Sketch of square; blue checkmark; circle] Nature
Nature while urging to utmost efforts, loading us with work, presenting cause beyond cause in endless chains lost in infinite distances, yet she [cheers] us like a mother with tender prattle words of love ministering to all our friendli[ness]ness & weariness.
14
The astronomer looks high, the geologist low who looks between on the surface of the earth. The farmer I suppose, but too often he sees only grain & of that only the mere [outside] bread [basket/bushel] & price side of it [mere material things].
Forms of Continents
Forms of continents are harmoniously correlated. What forces fashioned them in main lines & determined their positions?
"The French "Landes" of Gascony, 2500000 acres covered with heath & broom. waterlilies in ponds 160 to 190 feet above the sea"
Yosemite in Flood
The streams heading near the immediate rim of the valley reached their highest development about 7 AM, or eight hrs [hours] before Yosemite Creek.
During sudden floods the more water there is in the main trunk the higher will be the crest of the flood-wave, because the swollen waters behind traveling faster sweep up the slower current in front & by the resistance offered by inertia a wave with a height & sheerness of [front] is produced that at first seems miraculous
Resource Identifier
MuirReel31 Notebook11 Img010.jpg
Contributing Institution
Holt-Atherton Special Collections, University of the Pacific Library