Preview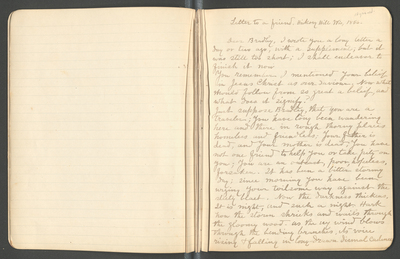 Transcription
18 yrs [years] old.
Letter to a friend, Hickory Hill Wis [Wisconsin], 1856
Dear Bradley, I wrote you a long letter a day or two ago, with a supplement, but it was still too short; I shall endeavor to finish it now
You remember I mentioned your belief in Jesus Christ as our Saviour [Savior]. Now what would follow from so great a belief, and what does it signify?
Just suppose Bradley, that you are a traveler; you have long been wandering here and there in rough thorny places homeless and friendless; your father is dead, and your mother is dead; you have not one friend to help you or take pity you; you are an outcast, poor, hopeless, forsaken. It has been a bitter stormy day; since morning you have been urging your toilsome way against the sleety blast. Now the darkness thickens. It is night, and such a night. Hark how the storm shrieks and wails through the gloomy wood, as the icy wind blows through the bending branches, its voice rising & falling in long-drawn dismal cadence
Contributing Institution
Holt-Atherton Special Collections, University of the Pacific Library