Preview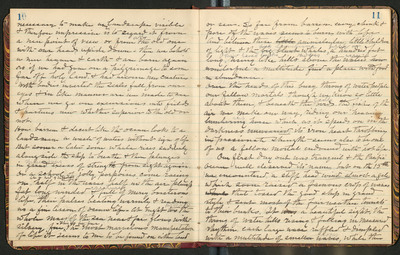 Transcription
10
necessary to make any landscape visible & therefore impressive is to regard it from a new point of view or from an [the] old one with [our] head[s] upside down. Then we behold a new heaven & earth & are born again as if we had hone on a pilgrimage to some far off holy land & had become new creatures. With bodies inverted the scales fall from our eyes & in like manner are we made to see when we go on excursions into fields & pastures new whether superior to the old or not.
How barren & desert like the ocean looks to a landsman a wash of waters without sign of life. But sooner or later some whale rises suddenly alongside the ship to breathe & then plunges in stupendous [grand] excess of strength [from sight again]. Or a school of jolly porpoises come racing on, like a herd of buffalos half in the waves half in the air plump fat long winded creatures & full of merry boisterous [life] energy their pulses beating warmly & sending us a fine lesson of [ocean] life. At night [too] perchance the whole mass of the sea near & far may glow[s] with silvery fire. This is, [by far] it seems to me, the most marvelous manifestation of life to be found on either land
11
or sea. [So] far from barren every chink & pore of the waves [seems to] burn with life & between these [little] [animalculae, little] small children of light & the [fast] [big blunt] lumbering whales fifty or a hundred feet long their broad backs rising like hill[s] ridges above the [waters] waves [how wonderful a multitude find a place with food in abundance].
[Over the heads of] Above this busy throng of water people our fellow mortals though we know so little about them, & beneath the gulls [birds] the fishes of the air we make our way, riding our heaving [lumbering horse] ship which as it speeds on in the darkness [unwearied] its iron heart throbbing in passionate strength seems also to be one of us a fellow mortal endowed with hot life.
Our first day out was tranquil & the Pacific Ocean well deserved its name, but on the 15th a stiff head wind was [we] encountered, almost a gale [I believe I did the movement of the words in the indicated places….] which [soon] raised a famous crop of waves [which] that tossed the good ship in grand style & sent [most of] the fair weather tourists to their bunks. It was a beautiful sight, the throng of water hills rising & falling in measured rhythm, each large wave ruffled & dimpled with a multitude of small[er] ones [waves], while [their]
Resource Identifier
MuirReel33 Notebook02 Img008.jpg
Contributing Institution
Holt-Atherton Special Collections, University of the Pacific Library