Preview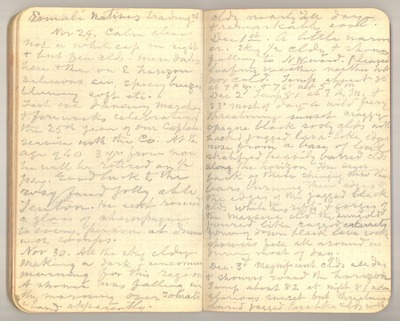 Transcription
Somali natives trading. November 29th Calm, clear, not a whitecap in sight, and but few clouds, mere dabs here and there on eastern horizon. Delicious air, spicy breezes, blooming soft, etc. Last evening dancing, marching and fireworks celebrating the 25th year of our captain's service with the Company. At the age of 60, 3 years from now, he will be retired on half pay. Good luck to the rosy-faced, jolly, able Teuton. He sent round a glass of champagne to every person at dinner with compliments. November 30th All the sky cloudy, making a dark and uncommon morning for this region. A shower was falling in the morning over Somaliland apparently. Cloudy nearly all day, and remarkable cool. December 1 A little warmer. Sky half cloudy and showers falling to northward. Pleasant loafing weather, neither hot nor cold. Temperature about 80 at 7:00 P.M. and 76 at 5:00 P.M.
December 2 Temperature 81 at 7:00 A.M. and 83 most of day - a wild, fiery threatening sunset, craggy opaque black sooty clouds with hacked, jagged lava-like edges rose from a base of level stratified heavily barred clouds along the horizon. The sun back of these shining through the bars, burning their edges and the edges of the jagged black clouds while through rifts and gorges of the massive cloud, the sungold poured like ragged cataracts, pouring down black lava rocks, showers fell all around during most of day. December 3rd Magnificent clouds all day, and showers round the horizon. Temperature about 82 at night, 81 morning. Glorious sunset but threatening lurid, jagged, lava-like clouds with
Date Original
November 1903
Source
Original journal dimensions: 11 x 16.5 cm.
Resource Identifier
MuirReel29Journal12P26-27.tif
Publisher
Holt-Atherton Special Collections, University of the Pacific Library
Keywords
John Muir, journals, drawings, writings, travel, journaling, naturalist
COinS