Preview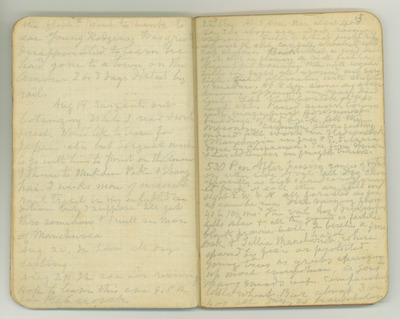 Transcription
the flesh. West to bank to see young Rodgers. Was greatly disappointed to learn he had gone to a town on the Amur, 2 or 3 days distant by rail. August 19th Sargents out botanizing while I read and wish to rest. Would like to leave for Japan, etc., but Sargent wishes to go with him to point on the Amur and thence to Mukden, Pekin and Shanghai. 2 weeks more of miserable rail travel in my enfeebled condition, but I suppose I'll get through somehow, and I will see more of Manchuria. August 20th In house all day resting. August 21st The sea air reviving. Hope to leave this evening 9:00 P.M for Kabarovsk[Khabarovsk].
August 22nd. At 5:00 A.M. Barometer about 400, say 300 above sea level. Dark rainy morning. Fields of wheat just ripe, about half cut, carefully shocked with cap sheaves. Buckwheat, a good deal of it still in flower. A rich, fertile beautiful country. Mountain with wooded hills in sight all around, not very high. Fields alternating with stretches of meadow. At 8:00 A.M. same as above running apparently on nearly dead level. Left Vladivostock at 9:40 last evening. Passed several towns with magnificent government buildings of red brick. All the masonry, carpentry, stone cutting indeed all work in Vladivostock and Manchuria in general and East Siberia done by Chinamen. See fine spruce and larch timber on freight trains. 5:30 P.M. After passing ranges of mountains on either side of valley all day, others apparently as high and handsomely arrayed back of each other are still in sight, wheat, west and north, all forested as far as can be seen, distance varying from 40 to 100 miles (?) The valley has diversified hills also, and all the ground is fertile, black prairie soil. Q. birches, a fine oak and Tillia Manchuria hazel, where spared by fire or protected. Young trees as grubs springing up most everywhere. A good many meads wet. Comparatively little wheat. Barometer about 300-400 all day, so beautiful
Source
Original journal dimensions: 11 x 16.5 cm.
Resource Identifier
MuirReel29Journal11P02-03.tif
Publisher
Holt-Atherton Special Collections, University of the Pacific Library
Keywords
John Muir, journals, drawings, writings, travel, journaling, naturalist
COinS