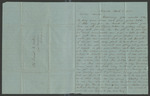 Recipient
Daniel B. Foster
Transcription
Mr. Daniel B. Foster
San Francisco
California
Norwich April 8 1850
Brother Daniel
Knowing you would like to hear from home and from your Folks I take my pen in hand to inform you now we all are well. your Father is getting along very well for him. he has got so he can use his hand considerable and I am in hopes he will get well this summer your Mother is very well for her indeed and so is all the rest of us. We were very glad to hear from you and to hear you was well and getting along so well it seemed to give your Mother new life when she got the letter from you. I sent 100 Hundred dollars to Harriet as you wished. I was not at home when R Coit came to our house and left the letters he told the folks that he had to use the money you sent to pay his passage home and he would bring to them as soon as he got his Dust exchanged for Money this was Tuesday and I got home Friday and he had not paid it nor had he been to new york as he told them he was going Saturday. I went to see him about it and he told me the same storey [story] {in the same time we had received a letter from Harriet stating that you had wrote her about it and she was afraid it was lost etc}
so I told Mr. Coit that I wanted the money to send to your wife as you directed in your letter etc. he told me he would pay it as soon as he could get it. So on Monday he gave us the money on the Thames Bank of Norwich and I sent to Harriet that night by adams express and as regards my present Dan I thank you a thousand times for it for it is the Handsomest present I ever had and I felt proud of it you better believe.
And any thing you want me to do for you any time I will do it for you with the greatest pleasure. I received a letter from you last sat night directed to Elizabeth and we was very glad to hear from you and I hope to get another from you by the Georgia wich [which] is due this week. I wrote you a letter and sent by JHOTM Gale which I suppose you have got by this time. I should have wrote you before but I did not now where to direct it. The package of papers you sent to Mr. Sykes I never got. Mr. Coit said he left them in his Trunk in new york but I expect he gave them away and also those you sent by Mr. Price which he had stole from him with his money on the isthmus. The Gales will tell you all about it. I spoke to Mr. Sykes and told him about it he said he was verry [very]
much obliged to you indeed and would send you the Courier any time I would call on him to do so or would give me papers any time I wanted to send to you.
Elizabeth has Experienced Religion and been Baptised and joined the batist church which will be good news to you I suppose. It was to us. we have had a very warm winter here indeed and every thing is pleasant. I am going to have a Bonnet Store in westerly this spring and I shall be there the most of the spring and summer and you must write me as often as you can you may send your letters to westerly RI or to Norwich it will not make much difference to me. If you want me to do any thing for you in norwich I will do for you for I shall be up here every few days. I wish you would inquire in San Francisco for SR Parlin he went out in the Velasco from new London and his Brother here has not heard from him but once since he got there he was in stockton then his Brother you Recollect boarded with me last summer. you Folks all of them send their love to you and wish you good health and good luck.
Receive this with the well wishes of your Friend and Brother
Edwin Hitchcock
Owning Institution
University of the Pacific Library Holt-Atherton Special Collections. Please contact this institution directly to obtain copies of the images or permission to publish or use them beyond educational purposes.
Recommended Citation
Hitchcock, Edwin, "Letter from Edwin Hitchcock to Daniel B. Foster 1850 April 8" (1850). Gold Rush Life. 47.
https://scholarlycommons.pacific.edu/grcc/47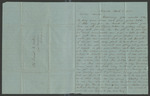 COinS