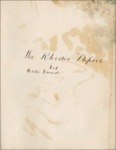 Transcription Volunteer
Interested in furthering the discoverability of the Gold Rush Life collection? The Holt-Atherton Special Collections welcome transcription volunteers. To get involved, please visit our Online Transcription Project page.
Transcription
(Note: only page 1 is transcribed) Sept 14th 1848 I took leave of my dear home for New York for the purchase of completing my medical education. What my feelings [were] can be imagined but not described. I had not been absent from home for many years, and I felt [now] that I was taking my leave of all I held dear on earth forever. I expected to be absent for two or three years, and [ ] the changes that must in the common course of events take place. I could not feel otherwise than sad what added to my gloom I left my dear little nephew Eli, ill past all hopes of recovering, and my sweet little Kate also sick. Little I thought of but these in my dreams they were present to me and I would wake only to have the [reality] come upon me. That they were dangerously ill [and] that in all probability I should never see them [ ]. God grant that they may be restored to [us] [ ] if it is the Lords will that they should be taken [from] us may He give us grace to bear up under the [trial]. There was no one in the stage with me, and consequently I had a lonely time of, nothing of any interest occurred until I reached Atlanta, here I met with several gentlemen Columbus among them Col. [Ryan] wh [which] told me that he was on his way from Washington and that [James] had left [ ] [ ], and at once all all my visions of happy hours with him vanished. At 2 o'clock PM we passed the "Stone Mountain" certainly the greatest natural curiosities I ever beheld. It is a mass of solid rock rising from a plain to the neighbor of several hundred feet and can be ascended only on two sides. The others being almost vertical on the top there is an [observating] [ ]. We reached Augusta at 1 o'clock PM and put up at the U.S. [ ] and I slept soundly unitll six, next morning.
Location
New York [NY]; San Francisco [Calif.]
Images
This item was originally represented in 71 individual JPEG image(s) and has been converted to a single file PDF.
Source
MSS30 Rhodes Family Papers
Box Identifier
BOX 1: RHODES FAMILY PAPERS
Owning Institution
University of the Pacific Library Holt-Atherton Special Collections.
Recommended Citation
Rhodes, Robert H. Dr., "Diary of Dr. Robert H. Rhodes [incl. medical training in New York and voyage to San Francisco], 1848-1849, 1861" (1848). Gold Rush Life. 38.
https://scholarlycommons.pacific.edu/grcc/38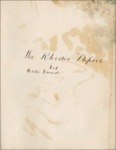 COinS