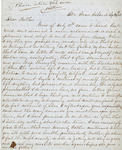 Recipient
Brother [William Hibbard]
Transcription
Please return this soon William
San Juan Island Sep 25th/63 [1863]
Dear Brother
Yours of July 30th came to hand last week and received a warm welcome, it is such a pleasure and relief to me to hear from home. When I say this you perhaps may wonder why it is that I am so delinquent in writing but the fact is my dear brother that I have little to write about except myself (and that so very unsatisfactory) that I often commence a letter and give it up thoroughly overcome with the blackest kind of blues. The isolated life I am leading has a tendency I believe to make one fearfully selfish and continued disapointment [disappointment] begets a mistrust of ones self that renders life anything but pleasant and desireable [desirable]. The only real pleasures that I do receive here are from letters from home so that I hope that you will continue to write often notwithstanding my delinquency which I will confess to you I do feel ashamed of when I reflect upon your responsibilities cares and the many demands you must have upon your time but I have promised to do better so often that I will say nothing about it this time. I was exceedingly glad to hear that our Heavenly Father continued to bless you all with good health particularly Mother for whom I feel the most anxiety as she is getting well along in years and I wish very much to see her again before she joins our dear father.
[PAGE 2]
I have been blessed with excellent health since I last wrote you. We have had a very fine summer so far but business has been exceedingly dull. I have however been hard at work making improvements in the Lime Works and as far as that goes we are getting along very well. The demand for lime is steadily increasing but it as yet not at all what we expected that it would be. You write that I have never told you who my partner in the Lime Quarry & business was he is a Mr. Lyman A. Cutlar an American from the state of Michigan. We are equal owners of the Lime Quarry & works and 360 acres of land, also a Schooner of 30 odd tons. We have expanded over $15000.00 in the works and improvements on the place besides our own time & labor we have been intirely [entirely] dependent upon Victoria for a market this season as there is no demand in Oregon or Washington Territory for lime owing to the war. We hope however that it will soon be ended and business assume a more flourishing aspect. The Mines in British Columbia have yealded [yielded] well this season and Victoria is steadily increasing in size and population it will not be long before it will rival San Francisco. The shortness of the mining season in BC has hitherto been a great obstacle to the advancement of Victoria but that is now removed as mines have now been discovered which can be worked the intire [entire] year instead of from four to five months only as formerly. This will facilitate business arrangements very materially and make a vast difference in the pockets & purses of the Miners.
[PAGE 3]
You mention that John Cameron had not been heard from he certainly left Victoria for Canada in May I think. I was told so by a person who knows him and who saw him in Victoria the day he started for home or said that he was going to do so. I am inclined to think that he has remained in California you can afsure [assure] his friends that I shall do all in my power to ascertain where he is. I was exceedingly grieved to hear of Ashley's heavy affliction and deeply sympathise [sympathize] with him and the dear children in their sudden bereavement of wife and mother poor dear Sarah and yet I trust not poor but blessed far far beyond those she has left behind her. May our Heavenly Father sanctify this afflicting dispensation to all of us and as one by one we are departing for that bourn from whence no traveller [traveler] returns may we who remain have a well founded hope that we are drawn nearer to Him who is thus saying to us Be Ye also ready. You also mention the death of Mr. [Grintori/Grinton] and say that you mentioned his illness in a former letter this is the first intimation I have received of it as that letter never came to hand. He was a good man and I am sure you must feel his loss very much.
I am very sorry to learn that Mifs [Miss] McKenzie has not returned in improved health for I was greatly in hopes that the voyage and change of climate would have restored to her that health which we all so much wish to see her enjoy. Please give her my kindest regards with an earnest desire for her happiness and compleit [complete] restoration to health.
[PAGE 4]
In one of my letters I mentioned to you that I was going to send you the Victoria Chronicle but it seems that you did not get the letter although the paper reaches you. Please let me know whether you receive it regular or not as I have ordered it to be sent for one year. A shocking affair occured [occurred] here last month. Our Cook a man by the name of Gibson killed a Mr. Wheeler one of our Coopers. Wheeler had been away for a few days and returned considerably under the influence of liquor. He was reprimanded for coming home in that state and immediately after went to the kitchens and got into a quarrel and fight with the Cook which resulted in his being fatally stabbed with a carving knife. Gibson is now in confinement at the military garrison awaiting his trial under an indictment for murder in the second degree.
I have received no letters from any of the family except yourself for a long time but suppose that it is my own fault that such is the case. Thanks for Mr. Middlemifs [Middlemiss] "carte de viste" and your own also sent me sometime ago. I should like very much to have you send me those of others at home as you may have them for I cannot, I am sorry to say, see that there is any prospect of my going home for sometime.
Remember me kindly to friends whom you meet. Tell Sarah that my hair is growing grey at the rate of a good round dozen per day and that it is now only by dyeing that I can hope to get a wife and become a respectable member of society. Give the dear children each a kiss from me and with my best and kindest love to all I remain your affectionate brother
Augustine Hibbard
Images
This item was originally represented in 3 individual JPEG image(s) and has been converted to a single file PDF.
Source
MSS2.H621 HIBBARD, AUGUSTIN GOLD RUSH LETTERS
Owning Institution
University of the Pacific Library Holt-Atherton Special Collections.
Recommended Citation
Hibbard, Augustin, "Letter from Augustin Hibbard to Brother [William Hibbard], 1863 Sept. 25" (1863). Gold Rush Life. 32.
https://scholarlycommons.pacific.edu/grcc/32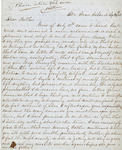 COinS