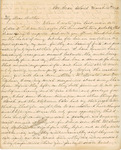 Recipient
[William Hibbard]
Transcription
San Juan Island March 14th 1863
My Dear Brother When I wrote you last under date of Dec [December] 21st I mentioned (for the hundredth time probably) that I was going to improve, and write you oftner, than I had been in the habit of doing, but alas for human resolutions, and most especially my own, for they are barren of fruits, and productive of only regrets, at their failure. I have however been exceedingly occupied since I last wrote, the winter being unusually fine and dry, there has been a demand for lime, that we were unprepared for, and have been able to meet only be exerting ourselves pretty severely. Before this reaches you, you will have seen Allan McDonald, and Mr. Ogilvie. I was very much disapointed [disappointed] at not seeing them again before they left, as they both promised to call upon me before leaving, and to take a letter, and package for you. I had some Indian curiosities, and other things for Sarah, and the children. I also had my photograph taken thinking that you might like to see whether I have changed since I left you. It was the only good opportunity that I have had, of sending you such a package, and I was very much annoyed at losing it, for I had seen both McDonald and Ogilvie, ten days before they left, and as they could not then say when they would leave, they said they would call upon me and let me know, they did not do so, and I to my disapointment [disappointment], have your package still in hand.
I received your long, kind, and welcome letter of Dec [December] 25th last week. It was particularly gratifying to me to know that you thought of me on that day, and notwithstanding the many claims you must have had upon your time, could devote so much of it to me in writing that long and pleasant letter, and I feel sure that you would consider yourself amply repaid could you but realize the good that it was to me, it gave me new life, and, as your letters always do made the world look less repulsive, making me better satisfied with others, if not with myself. The dear little letter that accompanied yours is highly prized, and a perfect little gem how strange it seemed, and how oddly it moved me, as I contemplated it, to think that I should be receiving letters from your children. The fact is, I can hardly even now, fully realize that you have a wife and children. Since my visit to you I seem to be as it were, two distinct and sepparate [separate] persons one belonging to the old time at home, and the other to the new, and strange it is, the one of the old time, seems to have the strongest individuality, the one of the new seeming more like the phantom of a dream than a reality, so strongly do old recollections and associations cling to me. This reminds me of a question Lizzie once asked me in one of his letters, she was alluding to old Mr Hutchins, it was, whether I thought it desirable to exist here, when we could only live, in the past I have never answered her, but I do not think that it is, for if we do not find happiness in the present, and have no hope to do so in the future, in this world, we may be humbly resigned to the will of God, but at the same time, if we
have a will grounded hope of having found acceptance with him, through Christ our redeemer, we should earnestly desire to depart from this [world] and be with Him through whose divine love we expected happiness in that [world] future existence which we see with the eye of faith, as for myself, I cannot say that I look back upon the past with much satisfaction and owing to my isolated and peculiar position, I certainly cannot say that I find much happiness in the present but I have hopes for the future, that our Heavenly Father, in whom I trust, will yet, in his own good time, permit me again to enjoy those blessings and privileges , which render life in this world pleasant, and desireable [desirable]. Your description of your house, has I think, given me a very good idea of it, and it is pleasing to me to know that that you are so comfortably situated, how I wish that I could see all in it. I often dream of doing so, and note the quite satisfaction expressed in Sarah's face as she points out the convenience of this thing, and that place, about the house, may you, and your good, dear wife, long live to enjoy it, and all other blessings which I trust and pray that your Heavenly Father will continue to bestow [upon] you. You have desired to know what religious privileges we have here in our Island home. I am sorry to say that we have none, except those which we have within ourselves and in our Bibles. We have upon the Island, two company of Soldiers of 80 men each, about 80 Settlers, mostly farmers, and we have from 15 to 20 men working for us, and yet, during the two years, and over, that I have been here, we have
never been visited by a protestant minister of the Gospel although Victoria, only 15 miles distant, is abundantly supplied with them, and they have been invited by Myself and, others to visit us. They have told me when I have invited them to come, and offered them a passage here and back to Victoria upon our Schooner, that they were realy [really] desirous of doing so, and would, as soon as they could find a convenient time. but that time, they have [not] found as yet. There are some Roman Catholcs [Catholics] among the soldiers and a few others upon the Island, and their Priests, although there are but three in Victoria, find time to visit them occasionally. I sincerely hope that this state of things will not last long, and that we may be favored with that spiritual counsel, and instruction, which we all stand in need of. We have had a very light and pleasant winter, and are now having fine warm weather which is decking the hills and vallies (valleys) with a [gaz] garb of grass and flowers. The tidings from the mines are very encouraging indeed, there were but a few men who wintered in them, but those few have done remarkably well, and the emmigration [emigration] from California to British Columbia will be longer than last year. I am, thank God, in the enjoyment of excellent health, and have reasonable hopes of doing this year, much better than I did last. I shall expect a letter from you next mail, and will try to write you or some of the family every month. Remember me kindly to inquiring friends, and with much love to all, I remain Your Affectionate brother Augustin
Images
This item was originally represented in 3 individual JPEG image(s) and has been converted to a single file PDF.
Source
MSS2.H621 HIBBARD, AUGUSTIN GOLD RUSH LETTERS
Owning Institution
University of the Pacific Library Holt-Atherton Special Collections.
Recommended Citation
Hibbard, Augustin, "Letter from Augustin Hibbard to [William Hibbard] 1863 March 14" (1863). Gold Rush Life. 28.
https://scholarlycommons.pacific.edu/grcc/28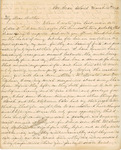 COinS