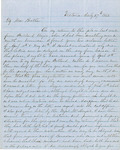 Recipient
[William Hibbard]
Transcription Volunteer
Interested in furthering the discoverability of the Gold Rush Life collection? The Holt-Atherton Special Collections welcome transcription volunteers. To get involved, please visit our Online Transcription Project page.
Transcription
Victoria July 27th 1862 My Dear Brother
On my return to this place last week from Portland, Oregon, where I had been something over a month on business, I found your two welcome letters of April 10th & May 28th. I cannot understand why it is that letters are so delayed on the way from Canada to this place, I ought to have received yours of April 10th previous to my leaving for Portland, neither do I receive more than one half of the letters you write me, for you mention that for the past year you have written me nearly every month, I do hope that the gross irregularities in our mail service will soon be corected [corrected] for they are exceedingly annoying & inconvenient I received a letter from Lizzie under date of Mch [March] 18th which I have not yet answered, although I ought to have done so before this. I did not see the young gentleman who bought it as I was not in Victoria when he arrived, I suppose that he did not remain long, as the letter was droped [dropped] into the Post Office I also got your letter by the Mefsrs [Messrs.] McDougal. I saw them several times while in Victoria and procured a temporary situation for the youngest one, on my return I found that they had both left, but I firmly could get no information with regard to their destination. I am sorry to be obliged to say that from inquiries made of Canadians who came out with them I learned that their conduct had been bad, both here and on the pafsage [passage] out. I am exceedingly obliged to you for
sending me your likeness, it is the next thing to coming to see me yourself. It is a good one, and it afforded much satisfaction to see that you were looking so very well. I will send you mine, as soon as I have an opportunity of getting it taken. I wish that I had those of more of the dear ones at home yours and, one of the dear sister Eunice, are the only ones that I have except the photographs of Father, &, Mother. I have met quite a number of persons lately, from Montreal and its vicinity, who know you. One in particular, who I am disposed to like, he is a Doctor Powel, a graduate of McGill College, and tells me that he was for sometime the resident Phisician [physician] of the Montreal General Hospital, he seems a fine man, and I think will do well here. I am disposed to think that the most of the Canadians who have come out this season, will be greatly disapointed [disappointed] for they are mostly young men who have left home for the first time have not been accustomed to rough it much, and, what is the worst, have come here, with the most exaggerated ideas of the facilities for making a great deal of money in a very short time. That the gold mines of British Columbia are as rich as any the world has known there is no doubt of, but these disapointed [disappointed] ones did not take into consideration that mining was a precarious business everywhere, and that in a new undeveloped, &, unexplored country [that] it required all the patience, energy, and bull-dog perseverance that a man can be possessed of, to enable them to perform the labour [labor], and endure the hardships and privations which the miners must submit to until the facilities for supplying their wants are greatly improved. The government, no doubt, is in a great measure to blame for the existing state of affairs [in] the mining districts, for with a surplus in the treasury they have neglected to make roads which are as much needed in order to open up the agricultural portion of the country, as for the developement [development] of the mines, and the result is, that it is impossible to transport even provisions enough into the mines to feed the people that have come here for the purpose of mining, there are not animals enough in the country to do it until roads are made. But notwithstanding the discontent and dispointment [disappointment] that hear expressed, it is almost a matter of impossibility to get men to work for reasonable wages any length of time, we have difficulty in engaging men for three months at $40 pr [per] month and board ,in fact it is only men who have been to the mines that will engage on those termes [terms] and yet, a prudent man can lay by his $400. a year at that the remaining so being amply sufficient for his necessary expenses I have had men tell me that they did not come out here to work for less than $100. pr [per] month and if they could not get that that they would go home &, work for 25. Our coopers make their $80. pr [per] month & it is difficult to keep them at that, they struck for more, and one of them went to the mines, but getting out of money before he found a claim that would pay he came back again, although he says he was offered $150. pr [per] month in the mines which I do not doubt, for that would not be equal to 50- here. The reports that we have received from the mines that are being worked are very good, and now the season for prospecting has arrived I am confident that many more rich claims will be discovered & that the yeald [yield] of gold will be larger. Victoria is steadily improving in all that is requisite to make it a desireable [desirable] place for residence or business. I have not passed much of my time there for the past four months, having been, with the exception of the time I was in Portland continually occupied at the Lime Kiln for labours [labors] is at such a high
figure, that we do all that we possibly can ourselves I wish that you could see our place, it is beautifully situated on the Canal de 'Haro, which separates it from Victoria, these Straits are seven miles in width, but we have a fine view of all the shipping bound in or out of the port. Our house, which is a substantial two story one, is situated on a small plateau, or as, may I say, a shelf of the Island, which rises about 20 feet perpendicular, above the sea which is at its base, thus affording us a fine prospect seaward. We have a broad verandah in front of the house, where we enjoy, after the labour [labor] of the day is over, the refreshing sea breeze which greets us ever afternoon and, evening, during the summer months. About 150 yards to the rear of the house is the lime Kiln, and Quarry, and everything is very convenient, and extremely well situated for marking to advantage in fact, it could not be more so. We are quite by ourselves, our nearest neighbor residing four miles from us Each of the two governments claiming the Island, keep a military garrison upon it, one is six miles, and the other eight, from our place. The officers of both Posts have called upon me, but I have found time to return the civility to but one of the parties, the Americans, they seem to be very pleasant gentlemen, and, I pased [passed] a few hours very agreeably, with them. I sincerely trust my dear brother, that this may find you & yours and the rest of the loved ones at home, blest' by our Heavenly Father with all that can conduce to your happiness and prosperity, temporally & spiritually Give my best love once more to all, and, a kiss to Sarah & the bairn for me, had with the firm intention of writing you again in a month, I remain Your affect. [affectionate] brother Augustin
Images
This item was originally represented in 3 individual JPEG image(s) and has been converted to a single file PDF.
Source
MSS2.H621 HIBBARD, AUGUSTIN GOLD RUSH LETTERS
Owning Institution
University of the Pacific Library Holt-Atherton Special Collections.
Recommended Citation
Hibbard, Augustin, "Letter from Augustin Hibbard to [William Hibbard] 1862 July 27" (1862). Gold Rush Life. 26.
https://scholarlycommons.pacific.edu/grcc/26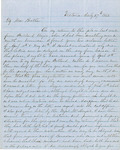 COinS