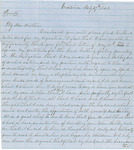 Recipient
Brother [William Hibbard]
Transcription
Victoria July 27th 1862
Private
My Dear Brother[,]
Enclosed you will please find two blank notes sent for my signature. I feel that I am unable to sufficiently thank you for your kind letter of May 28th, [and] nor to express my gratitude for the kind brotherly feeling pervailing [prevailing] it. The obligations that I am under to you and Ashley are of such a nature, and my position with regard to them is so unsatisfactory, that it has weighed heavily upon my spirits and caused me many a sleepless night, [and] [ ] [ ] [for] your kind words of encouragement and regard I do not know what I should do. I do not mean to say, or have you understand. My dear brother, that I think I have done perfectly right, for I do not, but, that in all that I have done I conscientiously thought that I was doing what was for the best, and what would meet with the approbation of both yourself and Ashley[.] It is a great relief to me to know that you do not think that I had, or have, an intention of swindling you. When Ashley wrote me that it looked to him as though I had coolly and deliberatly [deliberately] gone to work to Swindle him and beggar his children. God only can know the anguish that filled my heart and the heavy sorrow that that bore me down to the very dust, for as God is my judge William. I have never seen the time when I [when I] would have refused to freely share with him, did he need it, whatever I might have, much, or little. But these are only words, and it galls me to the quick, that I am unable to offer more at present, could I have sold everything I have here for Cash, and, realized sufficient to have paid you and Ashley, I should have done so, but it has been imposible [impossible] to do so, the country is in state of transition from which it will come out all right, and the only thing that I can do is to keep dilligently [diligently] at work, and get well into position to make a good strike when the proper time comes. My situation is like that of a [man] [swimming] against a strong current, making some headway against it and [and] then being forced back by its strength, but who can see that he is continually gaining some and is confident of being able to overcome it and reach a desired point[.] We are doing better this year than we did last, with our lime, and the prospect is that as soon as returns from the mines begin to come in freely there will be a good deal of building done in Victoria, and it will be mostly of brick, as they have this year established fire limits in the city. The greatest drawback we have now is the high price of labour, but that will soon be lower[.]
I shall in my next, write more fully with regard to our lime business, and other matters which I have [notrefered] [not referred] to in this until then good bye with much love.
Your affect [affecting/affectionate] brother[,]
Augustin
Images
This item was originally represented in 2 individual JPEG image(s) and has been converted to a single file PDF.
Source
MSS2.H621 HIBBARD, AUGUSTIN GOLD RUSH LETTERS
Owning Institution
University of the Pacific Library Holt-Atherton Special Collections.
Recommended Citation
Hibbard, Augustin, "Private Letter from Augustin Hibbard to Brother [William Hibbard], 1862 July 27" (1862). Gold Rush Life. 25.
https://scholarlycommons.pacific.edu/grcc/25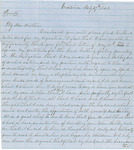 COinS