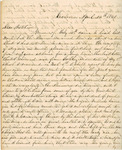 Recipient
[William Hibbard]
Transcription Volunteer
Interested in furthering the discoverability of the Gold Rush Life collection? The Holt-Atherton Special Collections welcome transcription volunteers. To get involved, please visit our Online Transcription Project page.
Transcription
Victoria April 24, 1862
Dear Brother
Yours of Feby [February] 14th came to hand last mail, but the Steamer remained here so short a time that I had not time to answer it then. The [receipte] of it gave me much pleasure for I had not heard from any of you at home for a long time. The last letter that I received was from Ashley under date of Jany [January] 1st which I answered on Mch [March] 5th. I shall expect to hear from him again in May. Our mail facilities for the past year have been very poor, but are now upon a better footing so that we shall receive our letters much sooner, and I hope with more regularity. The Steamer is due tomorrow, and I hope to get letters from some of you by her. Your kind letters my dear brother always do me a great deal of good and although I am well aware that your business leaves you but few leisure moments, yet I am selfish enough to ask you to write often. I received a letter last mail from Mr. [C.] W. Cameron of Thurso [Scotland] by the hand of his son John who arrived here in good health and spirits. He and his party remained here three days and then left for the mines. I hope that he will prove to be one of the lucky ones, he has promised to write to me, and I shall keep a lookout for him. I learned from him, that there was two young men by
Location
Victoria [Victoria Island]
Images
This item was originally represented in 3 individual JPEG image(s) and has been converted to a single file PDF.
Source
MSS2.H621 HIBBARD, AUGUSTIN GOLD RUSH LETTERS
Owning Institution
University of the Pacific Library Holt-Atherton Special Collections.
Recommended Citation
Hibbard, Augustin, "Letter from Augustin Hibbard to [William Hibbard] 1862 Apr. 24" (1862). Gold Rush Life. 24.
https://scholarlycommons.pacific.edu/grcc/24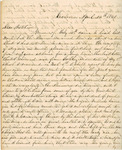 COinS