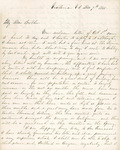 Recipient
[William Hibbard]
Transcription
Victoria V I Dec 7th 1861
My Dear Brother
Your welcome letter of Oct 1st came to hand to day, and I hasten to reply to it although I have not time to write but a few lines as the Steamer remains here but a short time to day. I wrote to Ashley by last mail, and will write to you again soon.
My health is improving and I am now getting along better with my business, the difficulties I have had to contend with are disappearing, and I feel confident that I shall succeed in building up a good paying business. There will be a great deal of building here next season, for our population is certain to largely increase in the next six months, the mines have never paid so largely as they have this fall, and discoveries have been made of very rich and extensive diggers. I have seen men that have made as high as $30,000 in three months, and a great many have made from ten to twelve thousand dollars. This has created quite an excitement amongst the miners in California, and there will be a great rush in this direction in the Spring.
I am shipping lime to day to San Francisco. I have already forwarded two lots, and it is pronounced a very superior article. I shall soon be able to ship to that place, and, Portland in Oregon, regularly, had I
been able to have done so this season I should have done well, for I had good contracts to fill.
I thank you my dear brother for your kind expressions of sympathy, and your wishes for my sucess [success]. If our Heavenly Father, blesses me with health I feel confident of succeeding, and I trust soon to be able to give you more [satisfactory] letters
I must now close, and you must excuse this short hurried letter. I will give you a long on soon
Give my best and kindest love to all, and may the choicest blessings of the Almighty, given of good be abundantly bestowed upon you
Your Affecte [Affectionate] brother
Augustin Hibbard
Location
Victoria [Vancouver Island]
Images
This item was originally represented in 2 individual JPEG image(s) and has been converted to a single file PDF.
Source
MSS2.H621 HIBBARD, AUGUSTIN GOLD RUSH LETTERS
Owning Institution
University of the Pacific Library Holt-Atherton Special Collections.
Recommended Citation
Hibbard, Augustin, "Letter from Augustin Hibbard to [William Hibbard] 1861 Dec. 7" (1851). Gold Rush Life. 21.
https://scholarlycommons.pacific.edu/grcc/21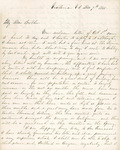 COinS