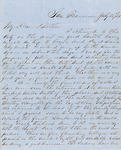 Recipient
[William Hibbard]
Transcription
San Francisco July 21st/56
My Dear Brother
I returned to this city on the 10 [ ] in good health having enjoyed my trip to Oregon, and, Puget Sound very much. I intend going up to the Sound again in about ten days. I went up for the purpose of getting orders, and, soliciting trade for a firm in this city, and, at the same time took a small stock of goods with me I did very well, and, think that there is a very good opening for a fair trade on the Sound.
It is one of the finest bodies of water I have ever seen. The entrance to it is some twelve hundred miles north of this place, and it extends two hundred miles into the interior of Washington Territory. Navigable for the largest class ships from the entrance to the head of it. The country through which I passed seems to be very fertile. And is certainly the finest Lumber regions in the world being heavily timbered down to the very waters edge with the largest Pines that I think the world can produce. There are five flourishing villages at present on the Sound, and right good sawmills which are doing a good business. The Indians have been
so numerous and powerful heretofore, as to retard the settlement of the Sound very materialy [materially], but at present they are completely subdued, and, with the force that the government will hereafter [sleep] there. I think that it will be impossible for the Indians to even commit any serious depredations again. I had a very pleasant voyage up, being 15 days at sea. And a very fine run down of 11 days. I like being at sea very much. I am never sea sick, no matter how rough it is. I think I should have made a good sailor. I disposed of the goods I took up readily, and, to good advantage. And I hope that I now shall succeed in making something. I should have prefered [preferred] to remain here but I see no chance of doing so, and, making as much as I can on Puget Sound. It will probably be six months before I return here again, so that my next letter to you will be from the Sound. The communication between here and the Sound is very uncertain and I wish you to address your letters to me to the care of [Mssr.] A.M. Gilman, and, Co 82 Front Street San Francisco and they will forward them to me. Do this until I instruct you to the contrary. I must confess My dear brother, that I was very much disapointed [disappointed] on my return, to find no letter here from home. I was away two months, and I surely thought that some of you would have written in that time, but I feel that I have no right to complain, especially of you. It is my own fault that I do not get more letters.
During my absence from San Francisco there was enacted (as you have doubtless seen by the public journals are this) some of the most exciting, and, terrible scenes that even a city witnessed. And, it is not over yet. The Vigilance Committee, are still in daily session, still making arrests, and, sending cut throat gamblers, and, Balot [Ballot] Box stuffers out of the country. The Governor has issued a proclamation calling upon the citizens of the state to come forward, and, enroll themselves into companies to act against the committee and the revolutionists of San Francisco, but he is powerless, for the sympathies of all good citizens throughout the state, are with the committee, and they have a force of 1,000 men here, well organised [organized], and, drilled, and, abundantly supplied with arms and munitions of war. This force is composed of our first, and, best citizens, men, who have a permanent interest here, who feel that stern necessity, their own safety, has compelled them to take the law into their own hands to rid themselves of the Community of assessing rotten gambling [politicians], and Balot [Ballot] Box stuffers, and they will do it, the work goes bravely on, and, I trust will be soon completed. Notwithstanding all this, there is no confusion, no interuption [interruption] of business here, everything goes on as usual except that good men breathe freeer [freer], &, transact their business with lighter hearts, for they know that the moral atmosphere of the community is being purged of a stinking mass of crime, &, corruption. That the reign of the Bowie Knif [Knife], &, Revolvers is over. That honest men in future will
be able to speak their sentiments publicly without being beat with loaded canes, or shot down in the street for so doing, by Bullies, and Assasins [Assassins] employed and protected by men in office who had been placed there by stuffed Balot [Ballot] Boxes. The vigilants [vigilantes] occupy a large stone building in a central position strongly fortified at all points by breastworks of sand bags and protected by heavy cannon, a strong guard is continualy [continually] kept there, but as little show is made as possible. The citizens who have enrolled themselves into the companies, attend as usual to their daily avocations, quietly devoting a portion of their time to military drill, and, taking their regular turns at mounting guard. In this manner they are performing the work of reformation, steadily, quietly, and, most effectively, while the regularly constituted authorities who have betrayed their trust, are utterly powerless.
The people have requested them to resign, but as yet they have refused to do so. If they continue in that refusal, the next step will be to compel them to resign, whether that can be done or not remains to be seen, I think that it can, and will be done. It is a strange state of affairs is it no but I must defer writing more about them until my next letter. Give my dearest love to all the family. Kiss the dear wife and little ones for me, and remember me kindly to all enquiring friends.
Your Affectionate Brother
Augustine
Location
San Francisco, CA
Images
This item was originally represented in 3 individual JPEG image(s) and has been converted to a single file PDF.
Source
MSS2.H621 HIBBARD, AUGUSTIN GOLD RUSH LETTERS
Owning Institution
University of the Pacific Library Holt-Atherton Special Collections.
Recommended Citation
Hibbard, Augustin, "Letter from Augustin Hibbard to [William Hibbard] 1856 July 21" (1856). Gold Rush Life. 18.
https://scholarlycommons.pacific.edu/grcc/18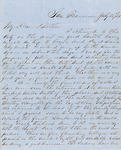 COinS