Preview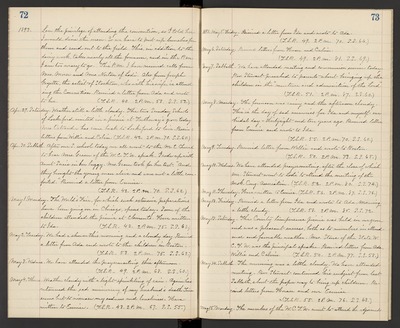 Transcription
Page 72
1893. Lou the privilege of attending the convention, so I told her I would dine the men. So we have to put up lunches for them and send out to the field. This, in addition to the dairy work, takes nearly all the forenoon, and in the P.M. I am too weary to go. This P.M. I have received calls from Mrs. Morse and Mrs. Norton of Lodi. Also from Joseph Goyette, the artist of Stockton, who with his wife, is attending the Convention. Received a letters from Ada and wrote to her. (T.S.R. 40. 2 P.M. 58. S.S. 52.)
Apr. 29. Saturday. Weather still a little cloudy. The two Sunday Schools of Lockeford united in a picnic at Tretheway's grove today Mrs. Ostrander has come back to Lockeford to live. Received letters from Willie and Calvin. (T.S.R. 42. 2 P.M.70. S.S. 60.)
Apr. 30. Sabbath. After our S. school today we all went to the M.E. Church to hear Mrs. Green of the W.C.T.W. speak. I rode up with Aunt Susie in her Buggy. Mrs. Green took for her text, "And they brought the young man alive and were not a little comforted." Received a letter from Eunice. (T.S.R. 42. 2 P.M. 70. S.S. 62.)
May 1. Monday. The World's Fair, for which such extensive preparations have been going on in Chicago, opens today. Some of the children attended the picnic at Clements. Have written to Ida. (T.S.R. 42. 2 P.M. 75. S.S. 63.)
May 2. Tuesday. We had a shower this morning and a cloudy day. Received a letter from Ada and wrote to the children in Boston. (T.S.R. 53. 2 P.M. 75. S.S. 63.)
May 3. Wednes. We have attended the prayermeeting this afternoon. (T.S.R. 49. 2 P.M. 68. S.S. 60.)
May 4. Thurs. Weather cloudy with a light sprinkling of rain. Again has returned the sad anniversary of my husband's death. Time seems but to increase my sadness and loneliness. Have written to Eunice. (T.S.R. 48. 2 P.M. 67. S.S. 55.)
Page 73
1893. May 5. Friday. Received a letter from Ida and wrote to Ada. (T.S.R. 49. 2. P.M. 70. S.S. 64.)
May 6. Saturday. Received letter from Horace and Calvin. (T.S.R. 49. 2 P.M. 81. S.S. 69.)
May 7. Sabbath. We have attended meeting and communion service today. Rev. Stewart preached to parents about bringing up the children in the "nurture and admonition of the Lord". (T.S.R. 51. 2 P.M. 87. S.S. 60.)
May 8. Monday. The forenoon was rainy and the afternoon cloudy. This is the day of sad memories for Ida and myself our bridal day- thirtyeight and ten years ago. Received letter from Eunice and wrote to Ida. (T.S.R. 55. 2 P.M. 70. S.S. 60.)
May 9. Thursday. Received letter from Willie and wrote to Boston. (T.S.R. 50. 2 P.M. 73. S.S. 65.)
May 10. Wednes. We have attended prayermeeting, after the close of which Mr. Stewart went to Lodi to attend the meeting of the Mok. Cong. Association. (T.S.R. 52. 2 P.M. 80. S.S. 74.)
May 11. Thursday. Have written to Eunice. (T.S.R. 56. 2 P.M. 87. S.S. 76.)
May 12. Friday. Received a letter from Ida and wrote to Ada. Morning a little cloudy. (T.S.R. 58. 2 P.M. 85. S.S. 72.
May 13. Saturday. The County temperance picnic was held in our grove and was a pleasant success, both as to numbers in attendance and favorable weather. Mrs. Stone of the State W. C.T.W. was the principal speaker. Received letters from Ada, Willie and Calvin. (T.S.R. 50. 2 P.M. 77. S.S. 58.)
May 14. Sabbath. The morning was a little cloudy. We have attended meeting. Rev. Stewart continued his subject from last Sabbath, about the proper way to bring up children. Received letters from Horace and our Eunice. (T.S.R. 55. 2 P.M. 76. S.S. 63.)
May 15. Monday. The members of the W.C.T.W. went to attend the adjourned
Date Original
January 1892
Circa Date
circa 1892-1897
Source
Original dimensions: 22 x 35 cm.
Resource Identifier
Locke_Diary_1892-1897_Image_054.tif
Publisher
Holt-Atherton Special Collections, University of the Pacific Library
Keywords
Delia Locke, diaries, women, diarist, California, Locke-Hammond Family Papers, Lockeford, CA, Dean Jewett Locke, rural life, rural California, 19th Century, church, temperance organizations, Mokelumne River Ladies' Sewing Circle, temperature recordings, journal
COinS