Preview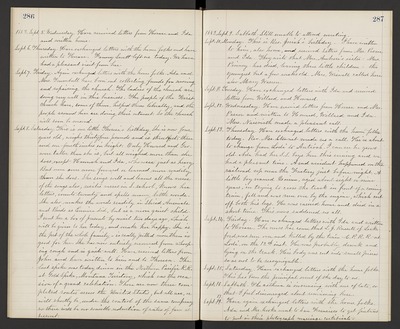 Transcription
Page 286
1883. Sept. 5. Wednesday. Have received letters from Horace and Ida and written home.
Sept. 6. Thursday. Have exchanged letters with the home folks and have written to Horace. Fanny Swett left us today. We have had a pleasant visit from her.
Sept. 7. Friday. Again exchanged letters with the home folks. Ada and Mrs. Trumball have been out collecting funds for moving and repairing the church. The ladies of the church are doing very well in this business. The people of the First church have, some of them, helped them liberally, and the people around here are doing their utmost. So the church will soon be moved.
Sept. 8. Saturday. This is our little Theresa's birthday. She is now four years old, weighs thirtyfour pounds and is three feet, three and one-fourth inches in height. Only Howard and Geo. were taller than she is, but all weighed more than she does except Hannah and Ida, who were just as heavy. But none were more forward or learned more readily than she does. She sings well and learns all the verses of the songs also, recites verses in S. school, knows her letters, counts twenty and spells many little words. She also makes the words readily in Sliced Animals and Birds as Eunice did, but is a more quiet child. I sent her a box of presents by mail two days ago, which will be given to her today, and make her happy. She is the pet of the whole family - is really pitted more than is good for her. She has now entirely recovered from whooping cough and is quick well. Have received letters from John and have written to him and to Theresa. The last spike was today driven in the Northern Pacific R.R. at Gold Spike, Montana Territory, which was the occasion of a grand celebration. There are now three completed routes across the United States, but all are, or will shortly be, under the control of the same company so there will be no sensible reduction of rates of face at present.
Page 287
1883. Sept. 9. Sabbath. Still unable to attend meeting.
Sept. 10. Monday. This is Bro. Josiah's birthday. I have written to him, also home, and received letters from Mr. Pascoe and Ida. They write that Mrs. Ambrose's sister - Mrs. Pinney - has died, leaving three little children - the youngest but a few weeks old. Mrs. Wiswell called here also Mary Warren.
Sept. 11. Tuesday. Have exchanged letters with Ida and received letters from Willard and Howard.
Sept. 12. Wednesday. Have received letters from Horace and Mr. Pascoe and written to Howard, Willard and Ida. Mrs. Naismith made a pleasant call.
Sept. 13. Thursday. Have exchanged letters with the home folks today. Rev. Mr. Stewart made us a call. He is about to change from Lodi to Antioch. I can see he grows old. Ada had her S.S. boys here this evening and we had a pleasant time. A sad accident happened on the railroad up near the Factory just before night. A little boy named Quinn, aged about eight or nine years, in trying to cross the track in front of a coming train, fell and was run over by the engine, which cut off both his legs. He was carried home and died in a short time. This news saddened us all.
Sept. 14. Friday. Have exchanged letters with Ida and written to Horace. The news has come that L. J. Russell of Lockeford, was run over and killed by the train - C.P.R.R. - at Lodi, on the 12th inst. He was probably drunk and lying on the track. His body was cut into small pieces so as not to be recognizable.
Sept. 15. Saturday. Have exchanged letters with the home folks. This has been the principal event of the day to us.
Sept. 16. Sabbath. The asthma is increasing with me of late, so that I feel discouraged about remaining here.
Sept. 17. Have again exchanged letters with the home folks. Ada and Mr. Cooke went to San Francisco to get pictures to put in their photograph marriage certificate.
Date Original
January 1880
Circa Date
circa 1880-1884
Source
Original dimensions: 22 x 34 cm.
Resource Identifier
Locke_Diary_1880-1884_Image_148.tif
Publisher
Holt-Atherton Special Collections, University of the Pacific Library
Keywords
Delia Locke, diaries, women, diarist, California, Locke-Hammond Family Papers, Lockeford, CA, Dean Jewett Locke, rural life, rural California, 19th Century, church, temperance organizations, Mokelumne River Ladies' Sewing Circle, temperature recordings, journal
COinS