Preview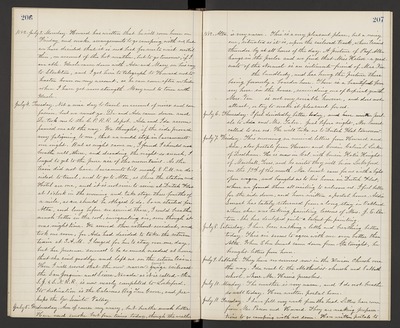 Transcription
Page 206
1882. July 3. Monday. Howard has written that he will come home on Friday and make arrangements to go camping with us, but we have decided that it is not best for me to wait until then, on account of the hot weather, but to go tomorrow, if I am able. Uncle came down with Ada and Mary on his way to Stockton, and I got him to telegraph to Howard not to hasten home on my account, as he can come after awhile when I have got more strength. Mary went to town with Uncle.
July 4. Tuesday. Not a nice day to travel on account of noise and confusion, but we must go. Dr. and Ada came down and Dr. took me to the C.P.R.R. depot. Ada and Ida accompanied me all the way. We thought, if the side proved very fatiguing to me, that we would stop in Sacramento over night. But as night came on, I found I should not breathe well, there, and dreading the night so much, I longed to get to the pure air of the mountains. As the train did not leave Sacramento till nearly 8 P.M. we decided to travel, and to go to Alta, as there the station and Hotel are one, and it is not nice to arrive at Dutch Flat at 1 o'clock in the morning and take stage three-fourths of a mile, as we should be obliged to do. So we started for Alta, and long before we arrived there, I could breathe much better in the cool, invigorating air, even though it was night time. We arrived there without accident, and took one room, for Ada had decided to take the return train at 3 A.M. I longed for her to stay over one day, but her presence seemed to be so much needed at home that she said goodbye and left us on the return train. Here I will record that the new narrow - gauge railroad the San Joaquin and Sierra Nevada - as it is called - the S.J. & S.N.R.R is now nearly completed to Lockeford. Its destination is the Calaveras Big Tree Grove, and perhaps she Yo-Semite Valley.
July 5. Wednesday. Am of course very weary, but breathe much better. Have used smoke but four times today, through the weather
Page 207
1882. Alta. is very warm. This is a very pleasant place, but a noisy one, situated as it is, upon the railroad track, where trains thunder by at all hours of the day. A picture of Prof. Allen hangs in the parlor and we find that Miss Kelsoc - a graduate of the Normal - is an intimate friend of Mrs. Van the landlady, and has hung the picture there being formerly a boarder here. There is a beautiful fernery here in the house, reminding one of tropical growth. Mrs. Van is not very sociable however, and does not attract, or try to make it pleasant for us.
July 6. Thursday. I feel decidedly better today, and have written postals to Ada and Mrs. Tabor. Just before night, Mr. Smart called to see us. He will take us to Dutch Flat tomorrow.
July 7. Friday. This morning we received letters from Howard and Ada, also postals from Horace and Cousin Calvin S. Locke of Dedham. He is now in Cal. with Cousin Katie Knight of Marshall, Texas, and he writes they will be in Lockeford on the 13th of this month. Mrs. Smart came for us with a light open wagon, and brought us to his home in Dutch Flat, where we found them all waiting to welcome us. I feel better for the ride down and have written a postal home. Addie Smart has lately returned from a long stay in Oakland where she was taking painting lessons of Mrs. J. E. Benton. She has developed quite a talent for painting.
July 8. Saturday. I have been walking a little and breathing better today. This air seems to agree with me even better than Alta. When Eben Smart came down from Alta tonight, he brought letters from home.
July 9. Sabbath. They have no services now in the Union Church over the way. Ida went to the Methodist church and Sabbath school, where Mr. Hains preaches.
July 10. Monday. The weather is very warm, and I do not breathe so well today. Have written postal home.
July 11. Tuesday. I have felt very weak from the heat. Letters have come from Mr. Pascoe and Howard. They are making preparations to go camping with us soon. Have written postals to
Date Original
January 1880
Circa Date
circa 1880-1884
Source
Original dimensions: 22 x 34 cm.
Resource Identifier
Locke_Diary_1880-1884_Image_108.tif
Publisher
Holt-Atherton Special Collections, University of the Pacific Library
Keywords
Delia Locke, diaries, women, diarist, California, Locke-Hammond Family Papers, Lockeford, CA, Dean Jewett Locke, rural life, rural California, 19th Century, church, temperance organizations, Mokelumne River Ladies' Sewing Circle, temperature recordings, journal
COinS