Preview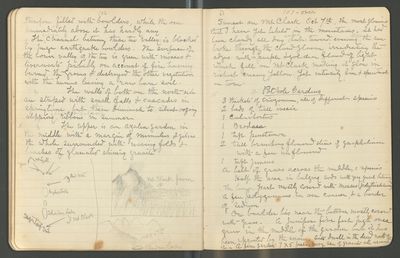 Transcription
106
therefore filled with boulders, while the one immediately above it has hardly any
The river channel between these two valleys is blocked by huge earthquake boulders. The surface of the lower valley of the two is green with mosses & liverworts probably on account of fire having burned the groves & destroyed the other vegetation with the humus leaving a raw bare soil.
The walls of both on the north side are striped with small falls & cascades in springtime but these diminish to [silent] oozing slipping almost silent ribbons in summer
The upper is an azalea garden in the middle with a margin of mimulus & gilias the whole surrounded with waving folds & bunches of glaciated shining granite
[sketch: [simple map] Mt (Mount) Lyell / Red Mtn (Mountain) / highest Lake / Shadow Lake / Mt (Mount) Clark / Sugar Loaf trib (tributary)]
[sketch: Mt (Mount) Clark from the N. (north) / Shadow Lake]­­
107 – over
Sunset on Mt [Mount] Clark Oct 7th, the most glorious that I have yet beheld in the mountains. It had been cloudy all day [but] until towards evening, then the sun broke through the cloud gloom irradiating the edges with a purple & golden flood of light which fell on Mt [Mount] Clark making it glow in richest creamy yellow yet intensely fine & spiritual in tone.
A Pothole Garden
3 thickets of Eriogonum, all of different species
2 beds of tall ivesia
1 Calochortus
1 Brodaea [Brodiaea]
1 tuft penstemon
2 tall branching flowered stems of Gnaphalium with a few unflowered
1 tuft juncus
A belt of grass across the middle, 1 species half the area in bulging sods with gray gravel between
The lower part mostly covered with mosses (polytrichium)
A few polygonums in one corner, & a border of sedum
One bowlder [boulder] lies near the bottom mostly covered with grass. A juniper five feet high once grew in the middle of the garden but it has been uprooted by the snow. Ants dwell in the dead roots of it. A fine garden 7 x 5 feet, wavy sea of granite all around.
Resource Identifier
MuirReel32 Notebook01 Img056.Jpeg
Contributing Institution
Holt-Atherton Special Collections, University of the Pacific Library