Preview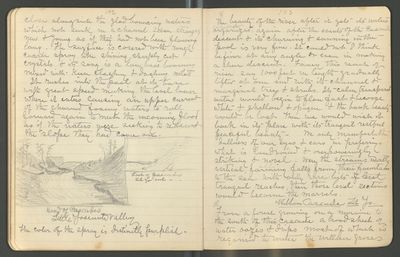 Transcription
102
close alongside the glad bouncing waters which not sunk in a channel seem strangely new & young as if they had not been flowing long. The surface is covered with rough coarse spray like shining shapely cut crystals & its song is a low bass booming mixed with keen clashing & dashing notes
It rushes into the pool at its base with great speed making the level lower where it enters causing an upper current of the churned foamy waters to roll forward again to meet the incoming flood as if the waters were seeking to reascend the slope they had come on.
[sketch: Foot of Cascades Lit Yo Val [Little Yosemite Valley]
[sketch: Head of Cascades Little Yosemite Valley]
The color of the spray is distinctly purplish.
103
The beauty of the river after it gets its waters together [organized] again after the events of the cascade descent & its churning & sunning in the pool is very fine. It could not I think be finer at any angle or even in making a sheer descent. Fancy this reach of river say 1000 feet in length gradually lifted at one end with its channel & marginal trees & shrubs. Its calm transparent waters would begin to flow fast & become white & shallow & opaque & the bank beauty would be lost then we would wish it back in its place with its tranquil restful peaceful beauty. We only manifest the dullness of our eyes & ears in preferring what is loud voiced & overpoweringly striking & novel. Were the streams mostly vertical, all forming falls from their fountains to the sea with only rare bits of level tranquil reaches, then those level sections would become the marvels.
Ribbon Cascade Lit Yo [Little Yosemite]
From a forest growing on a moraine to the south of this cascade a broad sheet of water oozes & drips most of which is required to water willow groves
Resource Identifier
MuirReel32 Notebook01 Img054.Jpeg
Contributing Institution
Holt-Atherton Special Collections, University of the Pacific Library