Preview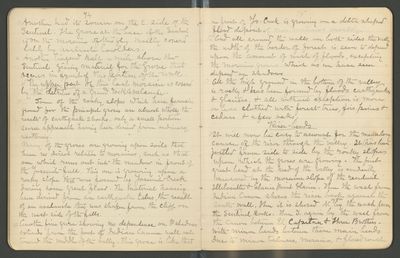 Transcription
74
Another had its source on the E. [east] side of the Sentinel. The grove at the base of the Sentinel is on the moraine of this gl [glacier], mostly covered [ ] by avalanche bowlders [boulders].
Another lingered half a mile above the Sentinel giving material for the grove that occurs in front of this portion of the wall. The upper part of this last moraine is covered by an earthquake the detritus of a grand rock avalanche.
Some of the rocky slopes which have furnished ground for the principal groves are almost wholly the results of earthquake shocks, only a small portion source appreciable having been derived from ordinary weathering.
Many of the groves are growing upon soils that have no direct relation to moraines, such as that [are/one] which runs out into the meadow in front of the Yosemite fall. This one is growing upon a rocky slope that was formed by Yosemite Creek during some great flood. The material having been derived from an earthquake talus, the result of an avalanche that was shaken from the cliff on the west side of the falls.
Another fine grove showing no dependence on [ ] shadows extends from the book of Indian Canon well out toward the middle of the valley. This grove is like that
75
in front of Yo. [Yosemite] Creek is growing on a delta shaped flood deposit of mor [moraine] material mostly.
And all around the walls on both sides the valley the width of the border of forest is seen to depend upon the amount of wash of floods, excepting the moraine groves which as we have seen depend on shadows.
All the high ground in the bottom of the valley is rocky & has been formed by floods earthquakes & glaciers, & all without exception is more or less clothed with forest trees, firs pines & cedars & a few oaks.
River-bends
It will not be easy to account for the meandering course of the river through the valley. It (has been) [is] jostled from side to side by the rocky slopes upon which the groves are growing. The first great bend at the head of the valley is evidently measured by the moraine slope of the residual silhouette & Glacier Point Glacier. Then the wash from Indian Canon shoves the river bank against the south wall. Then it is shoved N. [North] again by the wash from the Sentinel Rocks. Then S. [South] again by the wash from the canon between El Capitan & Three Brothers.
With minor bends between these main bends due to minor taluses, moraines, & flood washes.
Resource Identifier
MuirReel32 Notebook01 Img040.Jpeg
Contributing Institution
Holt-Atherton Special Collections, University of the Pacific Library