Preview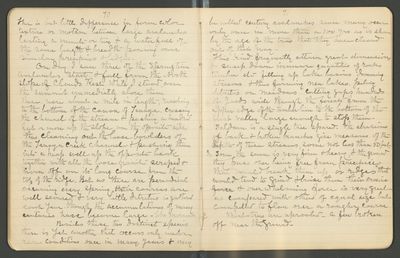 Transcription
70
There is but little difference in form color, texture, or motion between large avalanches lasting a minute or two & a waterfall of the same length & breath pouring over similar precipices & ledges.
One day I saw three of the Springtime Avalanches start & fall from the North Slope of Clouds Rest while I stand on the summit immediately above them these were about a mile in length, reaching to the bottom of the canon of Tenaya, crossing the channel of the stream & pushing a hundred feet or more up the slope on the opposite side thus cleaning out the loose bowlders [boulders] of the Tenaya Creek Channel & pushing them into a heap well up the opposite bank together with all the loose granite scraped & worn off on its long course from the top of the ridge. But as these are periodical occurring every spring their courses are well scoured & very little detritus is gathered each year though the accumulations of many centuries have become large. like moraines
Beside these two distinct species there is yet another that occurs only under rare conditions once in many years & may
71
be called century avalanches since many occur only once in more than a 100 yrs [years] as is [shown] by the age of the trees that they have cleared out of their way.
This kind frequently attain great dimensions & sweep down immense quantities of rocks timber etc. filling up lake basins damming streams & thus farming new lakes, piling detritus on meadows cutting gaps hundreds of yards wide through the forests from the upper edge of the timber-line to the bottom of the first valley large enough to stop them.
Seldom is a single tree spared. The abrasions of bark & broken branches give measures of the depth of these streams, some not less than 50 feet. [In] Some the snow is very firm & heavy & the ground they pass over being free from precipices that would break them up or ridges that would tend to grind & bruise them their erosive [force] & overwhelming force is very great as compared with others of equal size but compelled to flow over a rougher course.
Most tress are uproots, a few broken off near the ground.
Resource Identifier
MuirReel32 Notebook01 Img038.Jpeg
Contributing Institution
Holt-Atherton Special Collections, University of the Pacific Library