Preview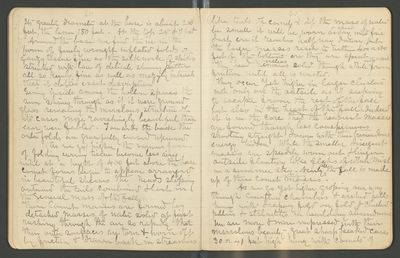 Transcription
60
Its greater diameter at the base is about 200 feet, the lesser 150 feet. At the top 25 & 7 feet. Around the base we find the ice in the form of finely wrought inflated folds of gauzy tissue fine as the silkwork of spiders streaked with lace of delicate [shimmery] pattern all so keenly fine as well as mazyly [mazily] intricate that it defies exact description
Going inside among the hollow spaces the sun shines through as if it were ground glass revealing the marvelous structure of its eaves, more ravishingly beautiful than ever were fabled. Towards the back the outer folds are gracefully curved upward.
[As we go] higher the various forms of folding curving tissue become less airy until at a height of 400 feet above the base comet forms begin to appear arranged in beautiful sheaves the heads sloping outward the tails combined & lost in the general mass of the fall.
These comet masses are formed by detached masses of water solid at first rushing through the air so rapidly that their outer surfaces are torn & worn oft by friction & drawn back in streamers
61
[like tails of comets]. If the mass of water be small it will be worn away & spent into fine dust ere it reaches half way down, but the larger masses reach to within 400 or 500 feet of the bottom ere they are spent. The head or nucleus remains solid though white on the outside from friction until all is wasted.
They occur yet higher in larger clusters not only on the outside as if seeking to escape from the rest of the fall but also in the heart of it [the fall]. Indeed it is in the core that the heaviest masses are found though less conspicuous shooting straight down with their tremendous energy hidden while the smaller divergent masses are speedily worn out & linger outside floating like fleks [flecks] of white mist in a summer sky. Nearly all the falls is made up of these comet-shaped masses.
As we go yet higher groping our way through countless chambers & arched halls hung with drapery fold on fold & clustered pillars & stalactites in bewildering abundance we are more & more impressed with their marvelous beauty, great sharp peaked caves 30 or 40 feet high hung with comets of
Resource Identifier
MuirReel32 Notebook01 Img033.Jpeg
Contributing Institution
Holt-Atherton Special Collections, University of the Pacific Library