Preview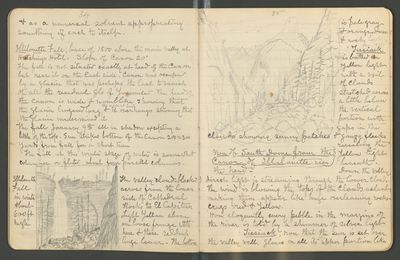 Transcription
34
& as a universal solvent appropriating something of each to itself.
Illilouette Fall, base of 1500 above the main valley at Hutchings Hotel. Slope of Canon 20° [degrees]
The fall is not situated exactly at head of the Canon but near it on the East side. Canon was occupied by a glacier that was perhaps the last to vanish of all the residual gls [glaciers] of Yosemite The head of the Canon is wide & womblike showing that the glacier lingered long, & the wall at head [it] overhangs showing that the glacier undermined it
The fall January 9th all in shadow excepting a little of the tops. Sun strikes bottom of the Canon 200 or 300 yards from fall for a short time
The fall at this winter stage of water is somewhat columnar or fluted, about four parallel columns.
[sketch: Illilouette Fall in winter About 600 ft high]
The valley cloud-blocked across from the lower side of Cathedral Rocks to El Capitan
Light yellow above on loose fringe with here & there reddish tinge lower. The bottom
35
[sketch: View of South Dome from the Canon of Illilouette near the head]
is pale gray & orange dense & rocky looking
Jan 9th.
Tissiack is bathed in yellow light with a veil of clouds stretched across a little below the vertical portion with gaps in the clouds showing sunny patches & gauzy flecks revealing the yellow light beneath.
Down the valley direct light is streaming through the lower cloud. The wind is blowing the tops of the clouds aslant making them appear like huge overleaning rocks – crags red & yellow
How eloquently every pebble in the margins of the river is told by a shimmer of silver light
Tissiack, now that the sun is set over the valley wall, glows on all its the upper portion like
Resource Identifier
MuirReel32 Notebook01 Img020.Jpeg
Contributing Institution
Holt-Atherton Special Collections, University of the Pacific Library