Preview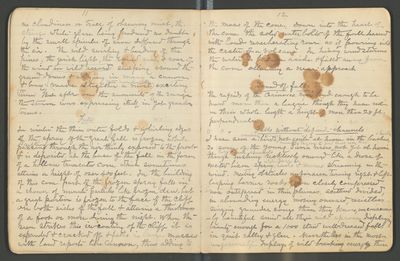 Transcription
11
no cloudiness or trace of obscuring mist, the strange white glare being produced no doubt by the small spicules of snow diffused through the air. The wild swirling & bending of the pines, the garish light, the varied rush & roar of the wind sweeping around the grand domes & eddying in many a canon [canyon] & bay in wild accord (made altogether a most was wonderfully) exciting (time.) But afar on the summits of the range the storm was expressing itself in yet grander terms.
Fall 1871 (?)
In winter the thin outer folds & whirling edges of the spray of the great fall is frozen while passing sifting through the air thinly exposed to the frost & is deposited at the base of the fall in the form of a hollow truncated [cone/cove] which sometimes attains a height of over 400 feet. In the building of this [cone/cove] part of the frozen spray falls in a shower of minute particles like frozen dew, but a great portion is frozen to the face of the cliff on both sides of the fall & attains a thickness of a foot or more during the night. When the sun strikes this ice-coating of the cliff it is expanded & cracked off & falls in large masses with loud reports like cannon, thus adding to
12
the mass of the [cone/cove]. Down into the heart of the [cone/cove] the solid water bolts of the fall descend with loud reverberat(ing) [ions] roar) as if pouring into the crater of a volcano. In heavy windstorms the water is blown aside & falls away from the [cone/cove] allowing a near approach.
Sound of Falls
The rapids of the [Orinoceo] [Orinoco] roar loud enough to be heard more than a league though they have not in their whole length a height of more than 28 ft. [feet] perpendicular.
Falls without definite channels For Tuol [Tuolumne]
[Sketch of square; circle; blue checkmark] I have seen [wandering a] young birds & animals trying to find their way thro [through]] not quite at home in the bushes & [bowlders] [boulders] So (some of) the young Sierra rivers seem not yet at home though in their canon [canyon] channels rushing recklessly onward like a drove of excited bison [spray] white cascade tails & manes streaming in the wind. Meeting obstacles unforseen [unforeseen] turning right & left leaping barrier rocks, now closely compressed now outspread in thin plumes scattered divided, in abounding energy moving onward, resistless singing grander songs than they know, unconsciously beautiful amid all their wild uproar displaying beauty enough for a 1000 staid well-dressed falls in quiet valley & glen. Nevertheless in the most ungovernable displays of wild [breaking] energy there
Resource Identifier
MuirReel31 Notebook11 Img009.jpg
Contributing Institution
Holt-Atherton Special Collections, University of the Pacific Library