Preview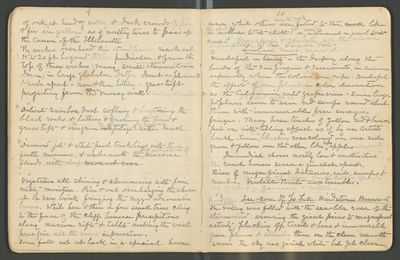 Transcription
9
of oak at head of valley & dark crowds of pine & fir are gathered as if waiting turns to pass up the canon [canyon] of the Illilouette.
The arches overhead this standpoint reach out 15 to -20 ft [feet] beyond the perpendicular. & from the top of these arches (many small) oozing streams descend (come down) in large globular drops direct as [plummets] & wide apart now & then hitting a grass tuft projecting from the mossy wall. & making it tremble
[sketch of square with circle inside; blue checkmark] Delicate rainbow dust softening & brightening the black rocks, & bathing & freshening the ferns & grass tufts & the glossy evergreen [oak] foliage of the live oaks within reach.
[sketch of square with circle inside; blue checkmark] Diamond jets & white pearl tricklings with their gentle murmurs, & underneath the deep resonant roar of massive floods [with deep resonant roar].
[sketch of circle; blue checkmark] Vegetation all shinning & shimmering with fine misty moisture. Pine & oak overhanging the chasm at the very brink fringing the rugged adamantine brows. While here & there a few small trees cling to the face of the cliff however precipitous along narrow rifts & tablets making the vast precipice all the more impressive.
Some falls not set back in a special [home]
10
recess while others [are] have the rock fitted to them [rock] like the shell to [a] [mollusc] [mollusk] [to its shell]? or case of an instrument or jewel [to its case]? Transpose & rewrite all the above description of the lower fall.
[sketchof square with circle] Lowland rivers Merced etc ra [etcetera]
Wonderful in beauty is the drapery along the banks of the San Joaquin & Sacramento, in autumn especially when the colors are ripe. Wonderful the effects of one plant in color decoration, as the California wild grapevine. Some large poplars draped with it seem to wear red scarfs wound about them with innumerable free swaying fringes. Many have touches of yellow red & brown put on with telling effect as if by an artists brush. Some lvs [leaves] blushing rose colored on one side green & yellow on the other like ripe apples. Beavers etc. [etcetera]
Immediate shores mostly low & unattractive the ranch houses scarce a gunshot apart. Rivers of magnificent distances, wide sweeps & reaches. [Veritable Pointe aux trembles.] many of them but little spoiled as yet by farmers & cattle.
[sketch of checkmark; square] Wind storm. Ice-cone of Yo [Yosemite] Fall Windstorm banners etc [etcetera] The valley was filled with the sea-like roar of the storm wind arousing the giant pines to magnificent activity plucking off tassels & burs & innumerable green plumes & strewing them on the clean smooth snow. The sky was garish white but yet clear
Resource Identifier
MuirReel31 Notebook11 Img008.jpg
Contributing Institution
Holt-Atherton Special Collections, University of the Pacific Library