Preview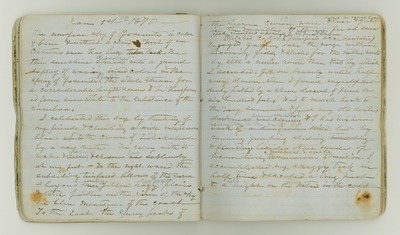 Transcription
12 Jan [January] 1st 1870 The new year sky of Yosemite is calm & blue & without a cloud. Most of our Christmas snow has been taken back. The thin sunshine dissolved spreads into a grand display of waving irised colors in the spray of Yosemite falls. The whole stream for a considerable length seems to be transformed from snow white to the substance of the rainbow.
I celebrated this day by thinking of my friends & climbing [a mile] into heavens blue on [up to] the crown of Tootockahnoola [Tutokanula] by a new route. The valley with its rocks & [rills] streams & shadows lay [was] sublimely at my feet. To the right waved the subsiding timbered [billows] of the Sierra & beyond these the yellow hazy San Joaquin plains & still farther on the rim of the sky the blue mountains of the coast To the East the spirey peaks of
13 the Sierra Crown were bathed in equal light clear & quiet in the mantles of their first snow each mantled reposingly in [their] first fresh snow
Sketched Cedar (juniperus occidentalis) enjoyed gazing over the verge without becoming giddy & started for the nether world by still a newer route than that by which I ascended. Got on bravely untill half way down. When I found myself suddenly halted by a sheer descent of five or six hundred feet. Had to march back to the very summit & find my old route [darkness was coming &] [came on whole] I had two hours scrambling in the dark [work of a dangerous kind], but by running jumping sliding [tumbling & floating] besides other modes of locomotion terrestrial & aquatic too numerous to mention I accomplished my craggy task in half time & escaped a long fast & a cold night on the mtn [mountain] [in the cold].
Date Original
November 1869
Source
Original journal dimensions: 10 x 16.5 cm.
Resource Identifier
MuirReel23Journal04P12-13.tif
Publisher
Holt-Atherton Special Collections, University of the Pacific Library
Keywords
John Muir, journals, drawings, writings, travel, journaling, naturalist
COinS