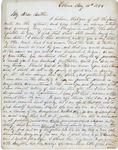 Recipient
[William Hibbard]
Transcription
Coloma Jany [January] 12th 1854
My Dear Brother
I believe that you of all the family write me the oftnest [oftenest], and your letters are always interesting and generaly [generally] long ones. Therefore in inditing this short Epistle to you I feel that shall still remain largely in your debt. I should have certainly written you a long letter by this mail had I not known that the letter to Father & Mother would be read by you and that you would consider it the same as you would were it addressed to you. In one of your letters you mentioned that you thought of purchasing a small farm near Montreal for Father. Could you do so on easy terms. should you do so let me know upon what terms and I shall do all in my power to afist [assist] him in paying for it. It has always been my desire (and particularly since I have been in this country) to see our parents placed in comfortable circumstances. Toil hardships and privations of all kinds I have thought nothing of but when time after time I have been disapointed [disappointment] in my expectations I have felt that but more on their account than my own. So your wife thinks that I am a good natured, sociable kind of body but I am afraid that she would find herself mistaken should she ever see me. So I intend sending her a likeness of my crossgrained, crabbed Phiz, as soon as I can find an artist who I think will do it justice. I am still a Bach and in all probability (unless some divine providence should interpose in my behalf) shall continue one. I certainly should never marry in this country and as I am of the opinion of the father who told his son that a man had always better marry one of his own sex, I shall have to go to Canada when I want to get a wife. I should like very much to see your little daughter and also Ashley's children. These little folks who have
[Page 2]
sprung into existance [existence] during my absence possess an indescribable interest for me. I feel proud of them, prouder than I do of my brothers & sisters altho without them it is very probable I should not have the others. Give kindest regards to your wife and tell her that I hope to appear personally before her some day and that when I do I shall certainly claim that kiss.
Remember me to all inquiring friends and with much love for you all, wishing you a Happy New Year - I remain your Affectionate Brother
Augustine
Mr. William R. Hibbard
Montreal
Location
Coloma, [Calif.]
Images
This item was originally represented in 2 individual JPEG image(s) and has been converted to a single file PDF.
Source
MSS2.H621 HIBBARD, AUGUSTIN GOLD RUSH LETTERS
Owning Institution
University of the Pacific Library Holt-Atherton Special Collections.
Recommended Citation
Hibbard, Augustin, "Letter from Augustin Hibbard to [William Hibbard] 1854 Jan. 12" (1854). Gold Rush Life. 12.
https://scholarlycommons.pacific.edu/grcc/12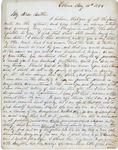 COinS