Football first appeared on campus in 1919, when the school was known as College of the Pacific, or COP and located in San Jose. The school became University of the Pacific, or UOP, in January 1961.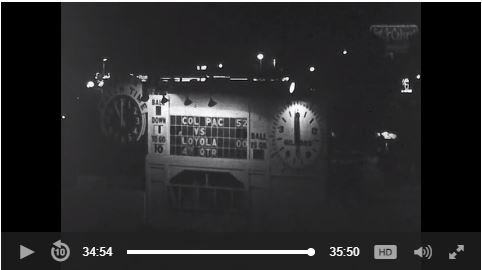 Conference affiliations: Far West Conference (1925 to 1942), California Collegiate Athletic Association (1946 to 1948), Pacific Coast Athletic Association (1969 to 1987), Big West Conference (1988 to 1995).
All Stockton Campus home games prior to 1950 were played at Baxter Stadium, a 12,000 seat facility located east of the present stadium and now the location of university residence halls.
Between 1932 and 1961, commencement ceremonies had taken place at Baxter Stadium, which was dedicated in 1929 and named after donor and board of trustees president Thomas F. Baxter. Baxter Stadium was the site at which the first American citizen ran the mile in less than 4 minutes. University of California at Berkeley student Don Bowden completed the mile in 3 minutes and 58.7 seconds at Pacific on June 1, 1957. Baxter Stadium was razed in 1961 after athletic events were moved to Pacific Memorial Stadium and the land was needed for the cluster colleges.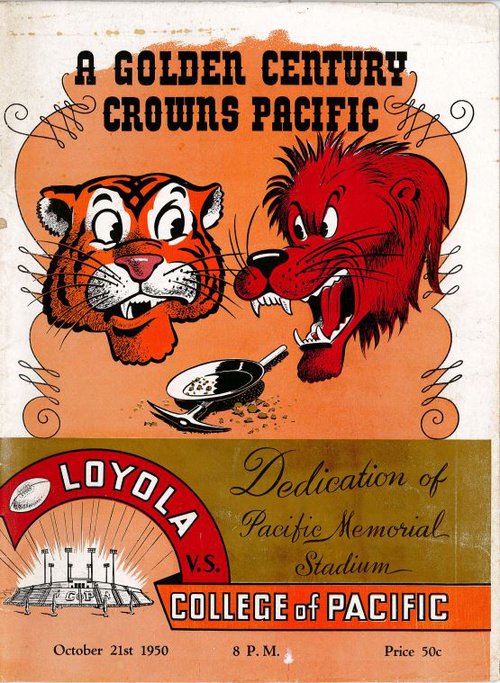 All home games since 1950 were played in Pacific Memorial Stadium, which was re-named as Amos Alonzo Stagg Memorial Stadium in 1988. The stadium was dedicated in Amos Alonzo Stagg's honor on the 100th anniversary of his entry into the coaching profession and the 50th anniversary of one of his proudest moments, when his 1938 team, the Golden Tigers as they have become known, defeated his former school, the University of Chicago 32-0.
Amos Alonzo Stagg is regarded as the "Grand Old Man of Intercollegiate Football" for his influence in the development of intercollegiate athletics in many areas throughout his life. As an athlete, Stagg, who died in Stockton in 1964 at age 101, was outstanding in several sports. An all-star pitcher in baseball, he hurled Yale University to five consecutive league championships. In one game, a two-hitter, he struck out 20 Princeton batters. An ardent golfer, he organized and was the first president of Olympic Fields Country Club in Chicago. Also outstanding as a tennis player, he won a doubles tournament at the age of 74 with his son. Amos Alonzo Jr. His football playing career reached its climax when he played end on Yale University's 1889 championship team which outscored its opponents 655-31. He was named that year to Walter Camp's first All-American team. He remains one of only three people to have been named to the College Football Hall of Fame as both a player and a coach. His football teams at Chicago won numerous Big Ten Championships and he produced several All-Americans there. That success continued as a coach at Pacific and was climaxed in 1943 when, at the age of 80, he was named Football Coach of the Year by the American College Football Coaches Association
At the same time, the stadium was dedicated to Amos Alonzo Stagg, it was also rededicated to the memory of all veterans of the United States Armed Forces, particularly to those alumni, and sons and daughters of alumni who gave their lives in the service of their country. The stadium was replaced by the Eve Zimmerman Tennis Center and Zuckerman Field after its demolition in 2014.
In December 1995, the board of regents voted to suspend the football program. Football had been at Pacific for 77 years, but due to financial instability, the program was no longer feasible.
The University Archives includes a plethora of material regarding football such as photographs of football activities, games, players, and coaches through the years as well as game programs and game footage.